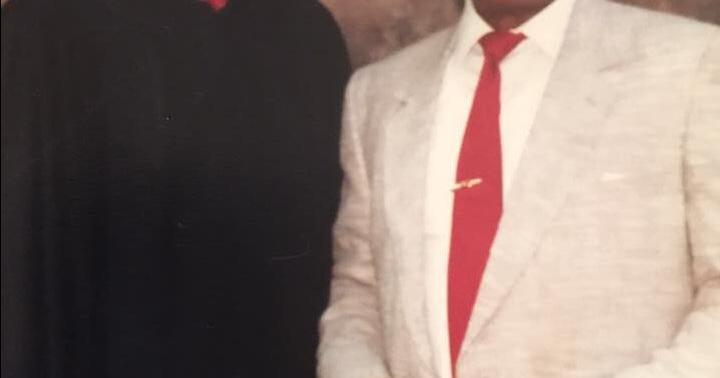 The success of The Sims | New
Doctor Steven Sims, a graduate of Bluefield High School (BHS), has enjoyed great success in his life and is now a renowned laryngologist and throat surgeon.
He is the son of Herb Sims, who was a very popular part of the Bluefield community for many years when he was the Director of Recreation, and he is now memorialized in the community with the Herb Sims Wellness Center on Stadium Drive.
Dr. Sims no longer lives in Bluefield and has lived and worked in Chicago for nearly 20 years now, and is the director of the Chicago Institute of Voice Care at the University of Illinois at Chicago Medical Center.
However, he says he really enjoyed living and growing up in Bluefield.
"Growing up at Bluefield was great because I had a lot of family all the time," Sims said.
He also said that his mother and father's parents lived very close to them while he was growing up.
Sims graduated from BHS and was in the class of 1984, and straight out of high school he started his journey to where he is today.
"I left Bluefield to go to New Haven, Connecticut for college," Sims said.
Here, Sims attended Yale University, an Ivy League collegiate institution, and it was there that he continued his undergraduate studies.
He would also go to Yale School of Medicine for a medical degree and he would go on to complete his residency at Yale-New Haven Hospital.
Sims said he believes it was his "inquisitive mind" that drove his desire to become a medical professional.
"I've always had an interest in the scientific method," he explains.
Sims has also been involved in music all his life, and he thinks that's also a big part of why he chose to go into otolaryngology (ear, nose, and throat doctor). throat).
"Hearing about Annie Lennox's vocal issues is what really opened my mind to the idea of ​​working with the throat," he said.
He explained that Lennox's issues were highly publicized during his freshman year of high school.
Sims also said another thing that had some bearing on her decision to pursue medical school was that her brother was shot shortly after graduation.
"My family has been essential in supporting me, so it was essential that I continue to make my family proud," he said.
Sims said he was very grateful to his family and all they did to support his education and career.
Throughout his medical training, Sims traveled to several locations in the United States.
"Before coming to Chicago, I lived in many different places," Sims said. "I moved to Nashville after Yale, then to Omaha, then finally to Chicago."
These different places allowed him to continue his learning and to work as an otolaryngologist and surgeon.
"I did my fellowship at the Vanderbilt Voice Center," he said.
It was there that he completed his clinical internship, having completed a research internship with the National Institute of Health in Neurolaryngology and Voice Disorders.
He was also appointed as an advisory board member of the National Institute on Deafness and Communication Disorders Advisory Council with the National Institutes of Health during the Obama administration.
After leaving Nashville and Vanderbilt, Sims went to Omaha to pursue his career, and he said it was one of his favorite places to live.
"There were just a lot of interesting, nice people in Omaha," he said.
Sims said he really enjoys getting around and experiencing so many different places and cultures.
He said the same about the difference he noticed when he moved from Bluefield to New Haven to attend Yale.
"It showed me a very different environment even though I had traveled before because of my parents, so I was used to seeing different places," Sims explained.
He added, "The culture at Yale was more liberal and progressive than it was at Bluefield."
He said he was interested in everything there because it was so different from where he grew up.
"I used to be a minority and one of the few other minority people in advanced STEM (science, technology, engineering, and math) courses at Bluefield, but in college , the concentration of different people was much greater," Sims said.
He also added: "It was so different there, sometimes scary but also often welcoming, and I really liked having people who looked like me in the same classes."
As an otolaryngologist, Sims specializes in several areas of the profession, including neurolaryngology (a subspecialty of otolaryngology-head and neck surgery), voice gender confirmation procedures , robotic laryngeal surgery and performing arts medicine.
Therefore, throughout his career, Sims has dealt with several well-known singers and singers.
According to Sims' biography on the Chicago Institute for Voice Care (CIVC) website, "He has worked with opera soloists and cast members of 'Wicked,' 'Hamilton,' 'Jersey Boys,'" Book of Mormon" and many other shows as well as Chicago's Oscar-winning "Dreamgirl".
Sims also mentioned that he listened to artists he was lucky enough to nurture, which he thought was really great.
"It was really cool to have this full experience of listening to and then meeting and dealing with these people," he said.
Sims said he grew up in a family of musicians, so he describes his profession as "very comfortable" for him.
He is also a very accomplished musician as he sings and plays trombone, bassoon and piano.
Dolores French, a longtime friend of the Sims family, said: "He's just an exceptional musician.
She also added, "He was in the band and the choir when he was young, and he was also in a choir at Yale."
Because of Sims' musical training, he really bonded with his performing arts patients.
"I've always identified with the singers I've worked with because of their backgrounds and my life with all the musicians I grew up with," Sims said.
The CIVC website also added, "His personal experiences and upbringing are used to solve problems for singers, performers and other voice professionals."
He also describes Sims' work as a laryngologist as "an extension of his two passions, medicine and singing."
Sims said working with these people is great and very interesting.
"That's what I always wanted to do," he said.
French said she was not surprised that he became a doctor and is what he is today.
"Wayne Street kids are so smart," French said. "Steven Sims was always a phenomenal kid."
She added: "I think he came out of the womb smart, but he's also so sweet."
French describes him as a very selfless person and says he "would give you the shirt off his back".
Seeing patients is the main part of his job, but he is also an associate professor at the University of Illinois, Eye and Ear Infirmary. That means he speaks in a classroom and often speaks at events all over the world.
In the near future, Sims is expected to be one of the main speakers at the 30th Congress of European Phoniatrists in Turkey from April 27-30, 2023.
"It's not the first time I've traveled for something like this," Sims said. "I've been to Nigeria, Argentina and France as well."
Sims said he loved this part of his job because he loved seeing other parts of the world, learning more about the work he was doing, and it was something he imagined when he lived in Bluefield.
He also says it is "very rewarding" to teach others about the work he does.
Although he is no longer at Bluefield, he said it goes with him everywhere.
"I always carry Bluefield with me when I go to these things, and I often use Bluefield images in my talks," Sims said.
As a healthcare professional, Sims has seen a lot, which also means he has seen the major effects COVID has had on his patients and other healthcare workers.
"We all had the initial shock, trauma and heartache that the pandemic brought, and it was really difficult to see patients," Sims said. "It was difficult because people couldn't or wouldn't come for treatment because of the fear and the threat of COVID."
As time went on through the pandemic, Sims said people couldn't come in to be seen, which led to advanced stages of illness, disease and even cancers.
"We've since moved into a patient return phase, but the challenges that came with that were that people were coming in sicker, which made treatment more difficult," Sims said.
He also added: 'All the stress we are under as a country, health care sees it first hand.'
Not only have Sims seen the effects of COVID at work, but also at home.
Sims said he usually sees his family every year for their annual family reunions, but because of COVID, this year was the first time his family had been able to do an in-person celebration in two years.
While this reunion brings him back to his family, it doesn't always bring him back to Bluefield as their celebration tends to shift. This year's meeting was in Washington DC
Sims said he has returned to Bluefield a few times in recent years, but it was for memories rather than happy reasons.
"Went back in 2015 for my mom's memorial, and want to go again in 2019 for a close high school friend's mom's funeral."
He added: "It's bittersweet to go now."
However, Sims adds that living in a small town has been a big part of her success now thanks to family and friends like French.
He described French as a "very positive nurturing force" in his childhood and today.
"As far back as I can remember, I've been friends with Dolores' daughter and we're still really close today," he said. Sims also said she was a great support system not only in school and growing up, but also when her brother's incident happened, French was a huge help to her family.
"Small town life allows you to grow with the family you were born into and the ones you create along the way in your community," Sims said.
Sims believes Bluefield gave him what he needed to get to where he is now in his life and career.