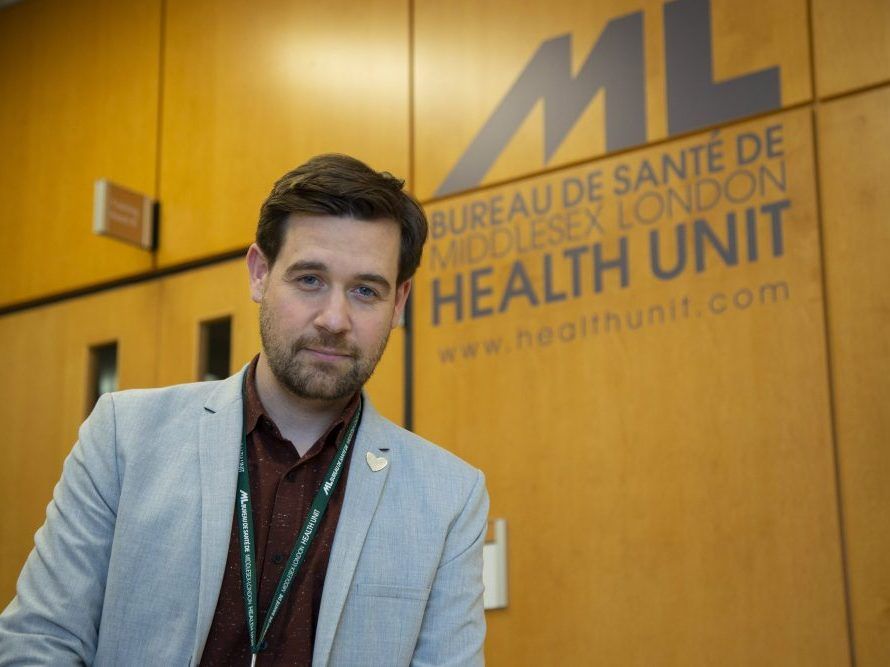 Sims: The road is clear, but it's not without potholes
London region's top public health official says we are "moving from an emergency response to a more resilient response".
Content of the article
London region's top public health official says we are "moving from an emergency response to a more resilient response".
Content of the article
It's even that there are flashing warning lights. As Ontario and just about every other Canadian province ease their pandemic restrictions, Middlesex-London Health Unit Medical Officer of Health Dr. Alex Summers says our number of COVID-19 cases are no longer falling .
Our seven-day case average is increasing. This is expected, Summers said, and will continue once the face mask mandate is removed for most locations on March 21.
"It is absolutely clear that the risk of COVID remains high in our community, and it is likely even higher than it was at any time before the Omicron wave," he warned at the conference. press from Monday's health unit.
He's been saying that for a while. As the Omicron wave subsided, Summers was kind of like a traffic cop standing in the middle of the Daytona 500 racetrack who can't hold the engines running much longer.
Content of the article
But what Summers brought to Monday's briefing, I thought, was more nuanced and, while being very careful, made it clear how we can have a little more confidence for the days to come.
Let's start with hospital numbers. Carol Young-Ritchie, executive vice-president and clinical director of London Health Sciences Centre, said the hospital is caring for 41 COVID-19 patients and five or fewer patients in intensive care. There were five or fewer positive cases in children's hospital and none in pediatric intensive care.
Nearly 33,000 cases have been counted in the region since the start of the pandemic two years ago. Middlesex-London's daily case count was 55 on Monday and the number of active cases stood at 664. But with PCR testing now restricted to certain groups, the health unit's tally does not accurately reflect the number cases in the community. .
Content of the article
"Estimates from other provincial authorities suggest that the number of cases we are getting could represent 10% of the total volume of cases in the region. However, this has not been validated," Summers said.
Also on the radar is the Omicron BA.2 sub-variant which is now spreading across China, Europe and the UK at an alarming rate and causing more serious illnesses and hospitalizations.
Summers said local health officials are awaiting provincial surveillance results for March, but it's clear BA.2 could soon become the dominant version of the virus. At the end of January, BA.2 constituted 6.3% of all genome sequencing; in mid-February, it was 12.3%.
It all seems pretty bleak, especially in the face of our impatience and restlessness to get through the pandemic. But this is where the hard work of two years comes in handy.
Content of the article
It is not clear if BA.2 can bypass vaccine coverage better than the original Omicron. However, it is evident that the number of cases has decreased since Omicron's extremely high levels in December and January.
And with more people vaccinated, boosted or gaining immunity through infection, Summers said, the province and other regional governments are confident they can undo public health protections.
But Summers knows her role is to remind people that there is always a risk of disease, especially for the elderly, immunocompromised and unvaccinated. Symptoms may be mild for those who have taken precautions, but for others "they may still find themselves very ill".
"For these reasons, the Middlesex-London Health Unit and I continue to recommend that individuals wear a mask and respect others whether or not they choose to wear a mask themselves after March 21," said he declared.
Content of the article
Summers will continue to push first, second and reminders, stress that all clinics welcome walk-ins, and remind people if they feel sick or have a respiratory illness, to stay home, even during the holidays. Of March. His message is repetitive, but it is a message that still needs to be shared.
I think he knows right now the most urgent part of the pandemic emergency is behind us, we will soon resume our lives outside – weather permitting – and we have many more tools to fend off the virus.
Above all, the community is much more aware of how to assess the risk of getting sick and spreading the disease.
Summers knows that even traffic cops let people keep driving. And the rest of us must drive defensively through COVID obstacles.