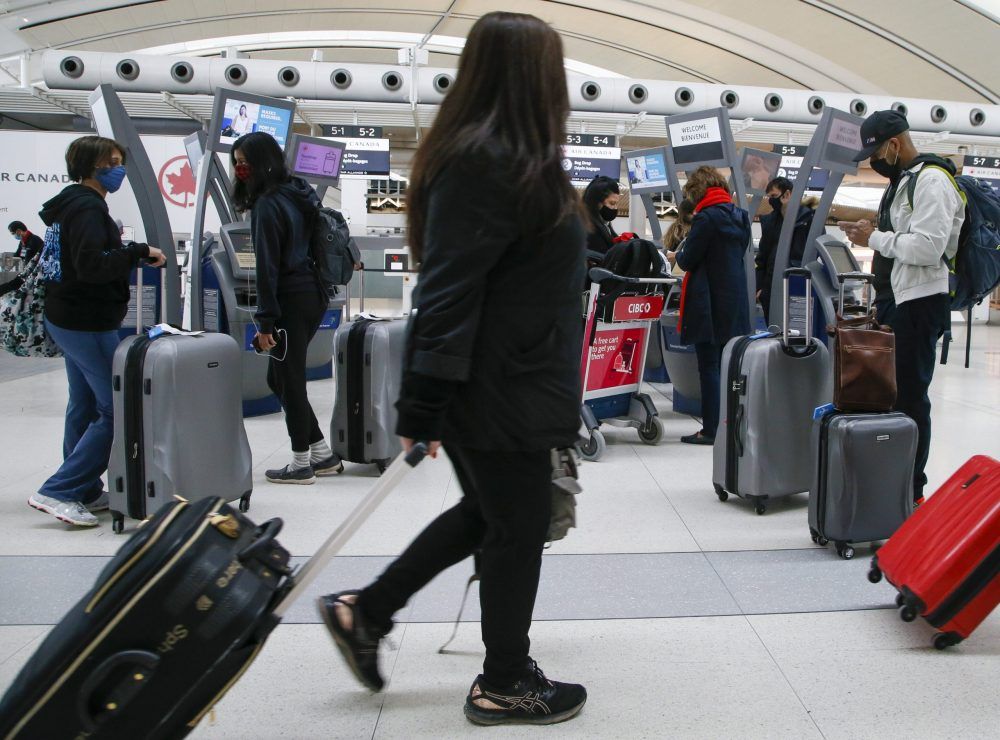 SIMS: Review of 'weird' 14-day mask requirement for cross-border commuters
Content of the article
Sarnia Mayor Mike Bradley and Niagara Falls Mayor Jim Diodati thought I was trying to trick them with a mean April Fool's joke.
Content of the article
Gods, I thought I was going punk Friday morning when I read the Government of Canada website outlining the new requirements for non-essential vaccinated people entering the country through an international border.
Friday was the long-awaited day when fully vaccinated people no longer have to provide proof of a negative PCR or rapid antigen test before entering the country. The tests were unnecessary, aggravating and expensive. He punished border communities, travelers and the tourism industry.
But now, happy days, you no longer need to take a test before returning to your home and your native country. However, there is a new twist – anyone entering Canada 'must' wear 'a well-constructed and properly fitted mask when in public spaces, indoors and out' for 14 days .
Content of the article
Say what?
There is more. You must "maintain a list of all close contacts and places you visit" and "keep copies of your proof of vaccination".
And here's the trick: "Some federal rules after entering Canada are different from provincial or territorial rules. In this case, you must follow the strictest rules.
"It's absolutely weird," Bradley said.
Two weeks after Ontario dropped most mask mandates, anyone arriving here by land, air or sea must wear a mask. It's not a choice or a suggestion, it's a "must".
It doesn't matter if you're a snowbird coming home, a foreign tourist, or just want to head to Port Huron for the evening for some Olive Garden breadsticks.
"How do they intend to enforce this?" asked Diodati. "What are you going to do, walk around and suspect who's an American or who's a traveler? You can't do that and it's ridiculous to even suggest it.
Content of the article
The Public Health Agency of Canada directed me to remarks by Theresa Tam, Chief Public Health Officer of Canada, regarding the expected resurgence and projected waves of COVID-19 with the removal of provincial restrictions.
"I think the bottom line is that everyone at this time, I think, should always be wearing their masks and keeping those layers of measurements, no matter where you are in the country," she said.
"Because even if you don't see a resurgence now, you probably will in the next few days and weeks and it will help reduce transmission and ensure that the impact on the health system is reduced."
I understand. Many of us still choose to wear masks because we understand the risks. Under the current policy, people entering Canada will not have that choice.
Content of the article
And public health experts have said travel is no longer the problem. The virus is well established and spreading in the community.
Bradley and Diodati were already convinced that the feds wouldn't drop the ArriveCan app requirement for all travelers, which is nifty if you know how to use a smartphone, but misery if you're a senior without a cell phone. or rely on a flip-phone, or is not nimble with technology.
The million returning snowbirds are not happy, they say.
But the masking rule took the mayors by surprise. "It's weird," Bradley repeated, "because nobody promoted it. I know people right now who were in (the United States). They're going home and they're not. aware.
Diodati called the 14 days of masking "embarrassing…. This must be a joke, because no sane person would come up with this plan.
Content of the article
Both mayors said it was another example of how the federal government has absolutely no idea how border communities work.
"It's not a matter of science. It's a matter of optics," Diodati said.
"They will cripple travel and commerce in this country. They are going to frustrate families who have been split due to all the travel restrictions and it does no good in terms of physical well-being. »
Ottawa does not seem to be listening. "I don't know where they get their political information from," Diodati said. "We are here at the border. I tell them that we need clear, concise, transparent, effective rules and we need them now.
Niagara Falls doesn't need a devastating third tourist season, he said. It brings together people from all sectors of tourism and travel, as well as mayors of border towns for a roundtable "to say enough is enough.
"It's just bureaucratic bureaucracy for no reason. … It's the opposite of what we need," Diodati said.
Weird.
twitter.com/JaneatLFPress