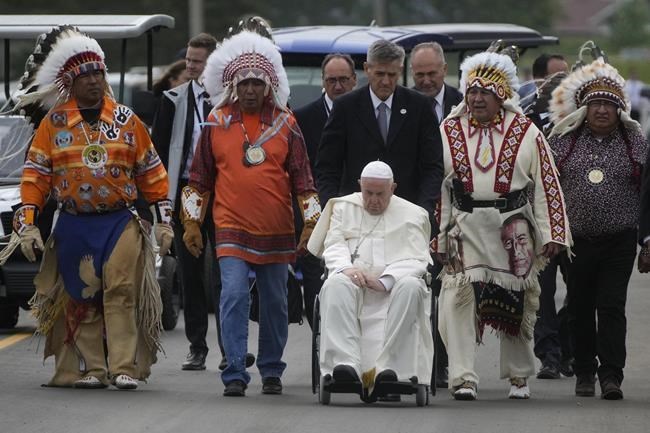 Sims: Reflecting on the Papal Visit
Given the diversity of Indigenous Canadians, there was no way the pope's apology would make everyone happy, said UNBC researcher Daniel Sims.
Last week, Pope Francis visited Canada in response to requests made earlier in the spring when various indigenous leaders visited Vatican City. As someone who is neither Roman Catholic nor particularly interested in the apologies of the Holy Father, I did not go out of my way to attend or watch any of the events associated with this visit. It didn't help that his visit was mostly limited to the Edmonton, Quebec and Iqaluit area. Nonetheless, as someone who lived and taught in the Edmonton area for 20 years and used to take students to Maskwacis and Lac Ste. Anne to learn more about native history, I naturally have a lot of friends, natives and settlers alike, who were very interested in the tour, and my social media feed was quite full of people reacting to it. In this regard, I would like to offer the following thoughts.
First, if it's not yet obvious to everyone, the indigenous community is diverse, and reactions to the papal visit have been equally varied. Many indigenous peoples are Roman Catholics and naturally for them this was all quite deep. Indeed, last May, a Métis colleague showed me quite proudly the medal he received during his visit to Vatican City in the spring. That being said, I was also very amused when a Mennonite friend jokingly asked what to do when Pope Francis hit him with holy water at Lac Ste. Anne last week. And true to form, my Lutheran friends were quick to point out that not only does the pope not speak for all Christians, but their church has never run residential schools in Canada.
And of course, I know many people who are not Christians, and who see Christianity as an imposed religion, and all those who follow it as colonized. It should come as no surprise that they were incredibly critical of it all.
Second, given the diversity of the native community, there was no way for the Bishop of Rome to issue an apology that would make everyone happy. Like Spring, he refused to apologize for the entire Roman Catholic Church, instead focusing on those involved in the residential school system. Given that he is the monarch of Vatican City and the number of scandals that have plagued his church over the past few decades, that kind of statement should come as no surprise.
He limits his liability and you can bet his team discussed what he would say long before his plane landed in Edmonton. This legalistic approach probably also explains why he said nothing about the Doctrine of Discovery, missing and murdered Indigenous women and girls, and other important topics. There was simply no good reason for him to mention it, especially since any offhand comments could have legal repercussions. That being said, it was striking that on his flight home he declared that what happened in the residential schools was genocide. In doing so, he joins all other churches that ran residential schools in condemning what happened there and clearly stated that those involved in the system were implicated in the genocide.
Third, it was interesting to see the conversations that emerged after the Pope received a Plains headdress from the Grand Chief of the Confederacy of Treaty 6 First Nations, Wilton Littlechild. For the First Nations who wear this headdress, it is often seen as something that must be earned, and so one immediately wondered if the Sovereign Pontiff deserved it. Of course, proponents of the donation pointed out that it comes with certain responsibilities, but that only begs the question of whether the pope knows about it. The event also revealed some of the discord between the Nehiyawak (Cree) and the Niitsitapi (Blackfoot Confederacy), with the latter having been criticized in the past for giving headdresses to various politicians, including the Prince of Wales. .
And fourth, it's really amazing what the government can do if it wants to. Maskwacis is one of the largest Aboriginal communities in Alberta, while Lac Ste. Anne regularly receives more than 30,000 pilgrims a year. Yet it took a papal visit to the province of Alberta to carry out much-needed repairs to the roads leading to both, if not pave them for the first time.
And the work was done in record time. If only the politicians treated the rest of us like they treated the pope.
Daniel Sims is Associate Professor of First Nations Studies at UNBC.