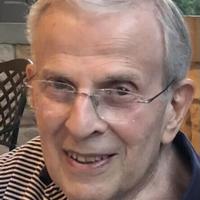 Sims, Alan | Obituaries | clevelandjewishnews.com
Alan Sims, 88, was born November 8, 1933 and died July 2, 2022.
He was the beloved husband of the late Judith Sims (née Epstein). Beloved father of Leslie (Joseph) Schulman, Brian Sims (Kim Goldhamer, fiancé) and Cathy (Bob) Rothschild. Devoted grandfather of Dana (Garrett) Kuczynski, Zack (Hannah) Schulman and Jacob, Rachel and Kayla Rothschild. Great-grandfather of Amelia and Asher. Dear brother of the late Philip Sims and Roma Shapiro.
A graduate of Case Western Reserve University School of Law, he served in the National Guard for three years and in the U.S. Army Reserve for another three years. He was a lawyer throughout his life and a partner at Ulmer & Berne LLP. Alan was a member of Oakwood Country Club and Temple-Tifereth Israel.
Alan was an avid tennis player, even with two new hips. He also loved the theatre, the symphony and keeping abreast of current events.
Services will be held at 12:30 p.m. July 7 at the Berkowitz-Kumin-Bookatz Memorial Chapel, 1985 S. Taylor Road in Cleveland Heights. Family will receive friends after services and interment until 5 p.m. and 7-9 p.m. July 7 and 2-4 p.m. July 8 at the Residence, 14 Stratford Ct. (located in the Village ), in Beachwood.
Friends who wish may contribute to the Case Western Reserve University School of Law.
Family and friends who cannot attend the service can view it live on July 7 at 12:30 p.m. by going to bkbmc.com, scrolling to obituaries, selecting Alan Sims' obituary, clicking on his obituary and clicking on join live.
Arrangements under the direction of the Berkowitz-Kumin-Bookatz Memorial Chapel.