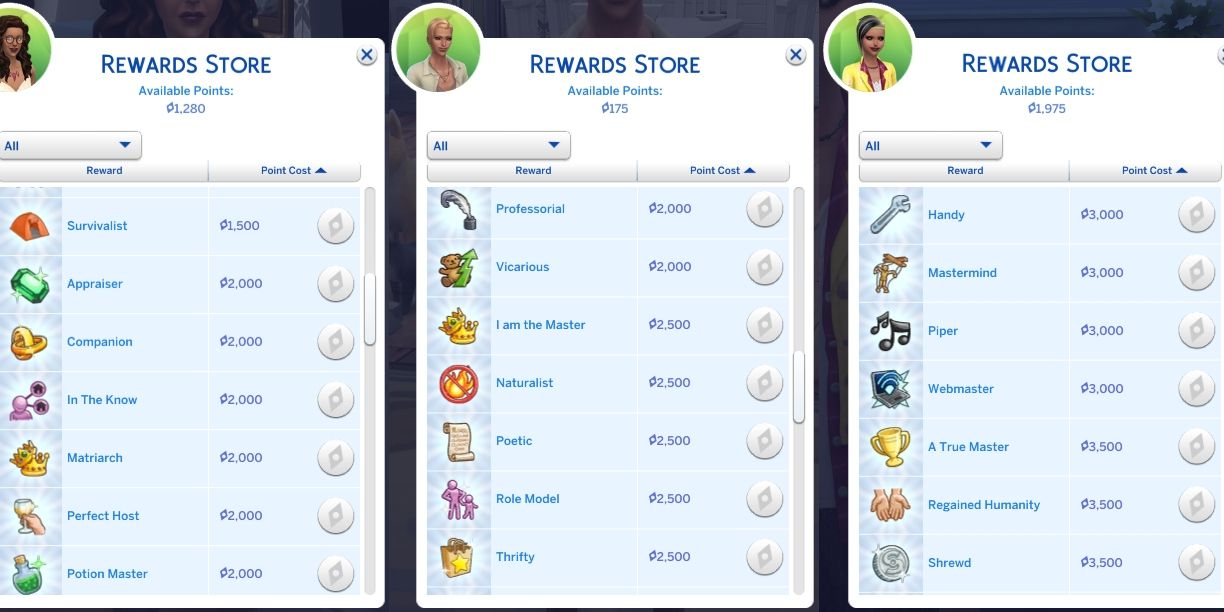 Sims 4: The best rewards to buy (and how they work)
The Sims 4 features a rewards store where players can use points awarded by aspirations to purchase permanent traits or instant potions.
There is a rewards store at The Sims 4 from which players can purchase useful items and traits after earning enough points. Some of the traits have minor effects or are not worth buying depending on playstyle. For example, players who do not wish to write bestsellers or paint masterpieces will not benefit from the Creative Visionary award.
Purchase features will depend on the player's ultimate goal and whether they sims 4Tips from are used. Tricks like earning more money can make the Frugal trait, and many others, obsolete. Playing the game without cheats will make purchasing traits a much more consequential action. With a limited number of points, players will need to think carefully about their purchases.
Related: How to Get Farm Animals in Sims 4 (Cottage Living DLC)
The rewards store has temporary traits and potions available for purchase. Rewards store features range from eliminating needs to reducing household costs, while others can affect romance or fertility in The Sims 4. Determining the right traits to purchase largely depends on the player's intentions with their Sim. However, there are a few general rewards in the store that will help any player throughout their game.
The best purchasable rewards in The Sims 4
Purchasing the best rewards requires saving points earned through aspirations. Players will receive points for each aspiration task they complete, and a large number of points will be awarded for completing an aspiration. There are many aspirations to choose from, and some are very easy to complete for quick points. The rewards range from 100 to 10,000 points, and the best ones are also more expensive. These include:
never tired 10,000 points: Sim's energy no longer depletes, eliminating the need to sleep
Frugal 2,000 points: Reduces house bills by 25%, which can be substantial for larger houses
Reprocessing Potion 5,000 Points: Used to reset a Sim's traits and can be purchased unlimited
always full 10,000 points: Nullifies hunger so the Sim never needs to eat
Connections 3,000 points: start any career at level 4 and automatically get all the rewards of the first three levels
Combining some of the best traits from the Rewards Shop will give players more freedom to focus on more recreational parts of the game. Not worrying about a Sim's needs frees up a lot of time to explore maps, interact with other Sims and achieve Aspirations. Traits like those available in the Rewards Store can enhance or alter a player's gameplay, as well as reset characters without having to start over from the beginning.
Next: How To Appease Every Gnome In Sims 4 (HarvestFest Event)
The Sims 4 is available on Xbox One, Playstation 4 and PC.
Which Genshin Impact characters are the most popular in Spiral Abyss
About the Author