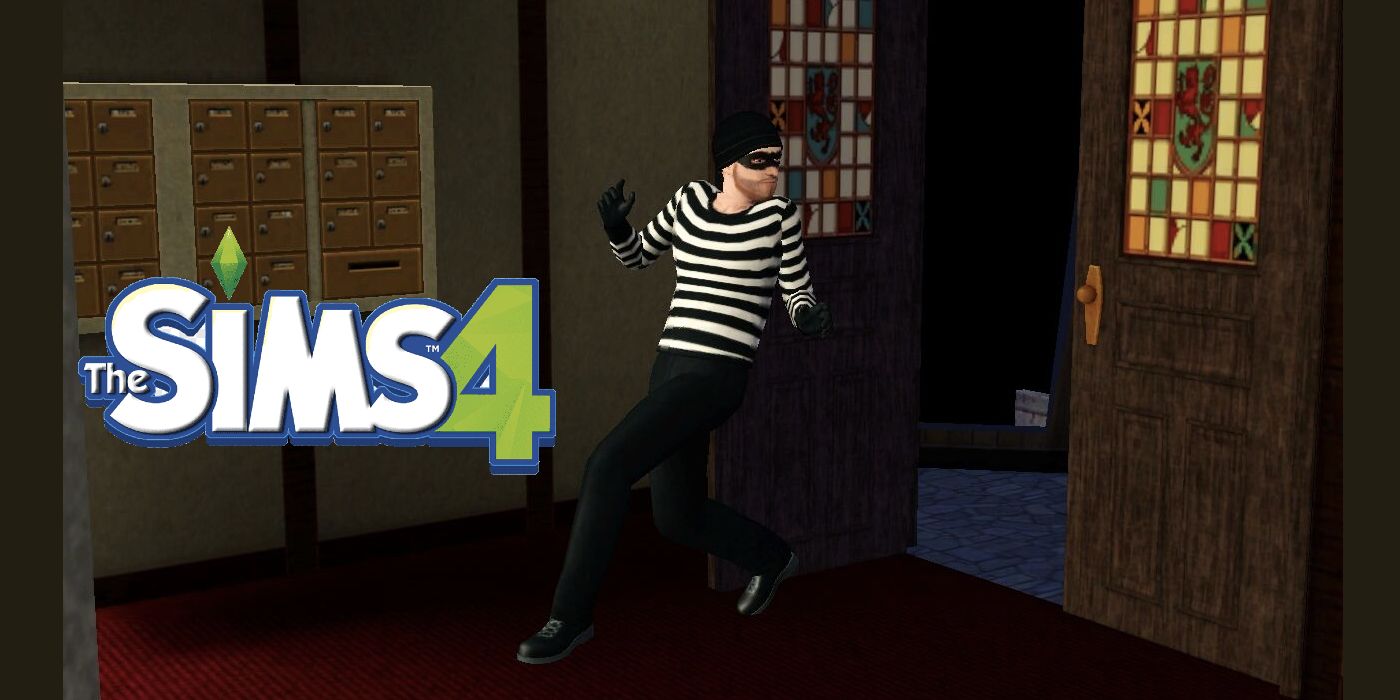 Sims 4 Mod Adds Burglars Players Fight With To Recover Stolen Items
An upcoming mod for The Sims 4 will add the much-requested Burglars to the game and give players myriad ways for their Sims to fight back.
A new The Sims 4 mod will bring burglars into the game and allow players to retaliate during a robbery in different ways. The Sims has an active modding community where players create content for others to download, creating mods that add new gameplay mechanics and custom content items like furniture and clothing. The game's creative community is one of the most active in gaming, with over 36 million players worldwide.
Up to The Sims 4, each installment in The Sims series contained burglars. They would sneak onto a Sims family's lot late at night, with their presence announced with a startling sting of music, and attempt to steal valuables from the player's home. They could be thwarted by burglar alarms, and in some iterations of the game could be fought by Sims with certain supernatural traits or identities – for example, those with the brave trait or werewolves Sim could fight off the thief, scaring them potentially land and requiring the return of stolen property. Although many gamers are afraid of them, Burglars have been a fan favorite for many, both as a gameplay mechanic and as a target for revenge in The Sims series.
Related: The Best (And Coolest) Custom Content For The Sims 4
The release of a new burglar-centric mod was announced on Twitter this week by CarlsSimGuides, long-time modder and guide writer for The Sims series. Sims will be able to fight off the burglar in approximately 25 ways, including "supernatural powers, and even Scientist's Simray [career]." The mod will continue to receive updates that add more features, including a burglar alarm, more combat options, and terrain features for homes that reduce or increase the frequency of burglaries. Currently, the mod is only available to Patreon subscribers, but will eventually become free for all players.
Burglars now live in my two #Sims4 Gameplay Overhaul and Tuning-Only Patron Releases. Burglars can visit late at night while your Sims are sleeping and will sweep up quite generously depending on the values. You can fight them to get your stuff back. https://t.co/AAY4421SdG pic.twitter.com/MdcLfeASOK

— Carl's Sims 4 Guide (@CarlsSimGuides) January 16, 2022
The mod is a perfect example of The Sims 4 creative community filling in the gaps left by EA in game functionality. When the game was released in 2014, The Sims 4 lacked several features that were present in other installments of the series, leading many players to believe that the game was incomplete at launch. Hot tubs – a fan favorite – were nowhere to be found, the color wheel used for the design in The Sims 3 was absent and the toddler life stage did not exist – babies age directly into adult children. Since release, players have frequently expressed their desire for features such as burglars to be added to the game to no avail, leaving community modders to take over.
The Sims 4 has been out for 7 years, and during that time more DLC content has been released for the game than for any other in the series. However, many of EA's DLC releases felt buggy and incomplete to fans and forced players to spend large amounts of money on sims content that in previous generations would have been included in the base game. Conversely, modders and custom content creators have continued to keep the series interesting, listen to the community, and implement what fans want to see in the game, usually at no cost to the player. This detailed anti-theft mod is a testament to the work done in The Sims 4 creative community, and their continued dedication to keeping the game exciting even many years after release.
Next: The Sims 5 Release Date: When EA Might Announce a New Sims
Source: CarlsSimGuide/Twitter
How FNAF: Security Breach's Ending Sets Up a Sequel
About the Author