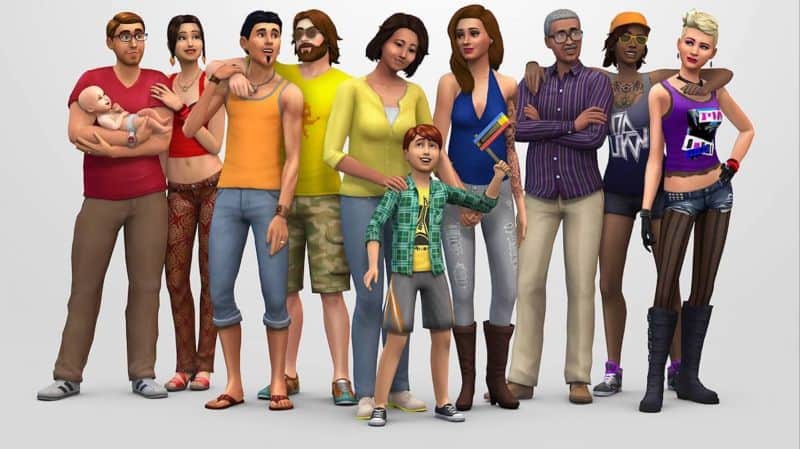 Sims 4 LGBT Mods – The Best LBGT Mod For The Sims 4
Sims games have always been pretty Suitable for LGTBQ+. The base game has no limits, allowing players to have their romantic sims and marry all kinds of sims, regardless of gender. Sims games have become a staple within the LGBTQ+ community, allowing gamers of all backgrounds and beliefs to create the sims world of their choosing!
And while the base game is pretty inclusive already, I wanted to share some of the best LGBTQ+ mods that can enhance your Sims 4 gameplay even further!
The Sims 4 LGBT Mod
There are plenty of mods to improve every gamer's game. But one of the most detailed and dense mods is The PimpMySims4 LGBT mod. The mod adds a plethora of LGBTQ+ traits and features that can provide new interactions and improvements. Overall creating a new experience for players and sims.
Among the content of this mod you will also find:
Features
When adding any of the LGBT sexuality/gender traits to a sim, they will now automatically receive an In The Closet trait. If you include the optional homophobia file, it will prevent homophobic/transphobic sims from being uncomfortable with sims who haven't yet dated.
– Ally
– a romantic
– Asexual
– Bisexual
– Demisexual
–Gay
– Gender Fluid
– Lesbian
– LGBT activist
– Non-binary
– Pansexual
– Transgender
– Drag Queen/King
– Questioning
Included in the optional file:
– Homophobic
– Transphobic
interactions
LGBT interactions can be found in the LGBT Mod menu when you click on another SIM card. All LGBT Sims can use the following interactions:
"Asking questions about sexuality/identity"
"Ask for pronouns"
"Get Excited About Pride"
"Encourage Yourself to Go Out"
"Go out like…"
"Discuss Current LGBT Issues"
"Ask to donate to an LGBT charity"
"Remember an encounter with a homophobic Sim"
"Encourage open-mindedness"
"LGBT Community Research" (computer interaction)
"Write an article on LGBT rights" (computer interaction)
…and more!
Depending on your relationship with the other sim and/or their characteristics, these interactions may have different results. Some interactions will give your sim and/or the other sim positive or negative buffs/mooodlets! Each trait also has exclusive social interactions, some may only appear after talking to sims for a certain amount of time.
Social events
LGBT Dating
This event allows you to invite any (or all) Sims with an LGBT trait to hang out. It's a free event and there are no rewards, it's just a great way to meet sims in the community.
going out party
This is a targeted event. You can hang out with your friends and family in a festive atmosphere. You can earn money as a reward at the end.
LGBT Charity Gala
This is a targeted event. Host a gala to help raise money for an LGBT charity. If you get gold during this event, you will receive a new gameplay trait, LGBT activist, which gives you two new interactions: "Talk about the protest for LGBT rights" and "Ask to join the cause" which also has a chance to turn other sims into LGBT activists. (Note that city life is required for some of the event objectives to be completed)
LGBT protest
This is not an event with purpose. You need to live in town for this event to work. You simply invite other sims to a batch and start a protest. (You may need to click on the sims and select "ask to join protest" under friendly > political career to start the protest).
Drag the show
This is a targeted event where you can win money and also the Drag Queen/King trait. Goals are mostly performance-based, so it gives you the freedom to run the show however you want.
Land characteristics
LGBT hot spot
The LGBT hotspot spawns LGBT sims in your world (as long as you gave the sims LGBT traits).
Gay hot spot
The gay hotspot spawns gay sims in your world at this batch (as long as you gave the sims the gay trait).
Lesbian hot spot
The lesbian hotspot spawns lesbian sims in your world (as long as you gave the sims the lesbian trait).
Holiday traditions
spirit of pride
This holiday tradition is complemented by the use of LGBT interactions with other sims, so you can create your own pride holiday (I thought this was better than an event as it will appear every year on the calendar).
Suction
LGBT activist
This Aspiration is for Sims who want to advocate for LGBT rights in the community. This aspiration requires you to have City Living and Get Famous in order to complete the objectives.
Optional files
the Homophobia The file is automatically included in the zip folder. If you don't want a Sim to suffer from homophobia or transphobia, please delete the file. These traits were created for storytelling purposes only, as some people like their game to reflect reality or want to overcome homophobia in the game.
the Cancel LGBT protest signs file is also optional. This will replace all protest signs with Simlish signs protesting for LGBT rights. If you don't want to replace them all, delete this file.
Known issues
Some people have reported an LE when lesbian sims woohoo, I've tried my best to fix this but it keeps coming back. However, it's not game breaking, so you can just ignore it for now.
If you want to download this mod, check out the PimpMySims4 page here!