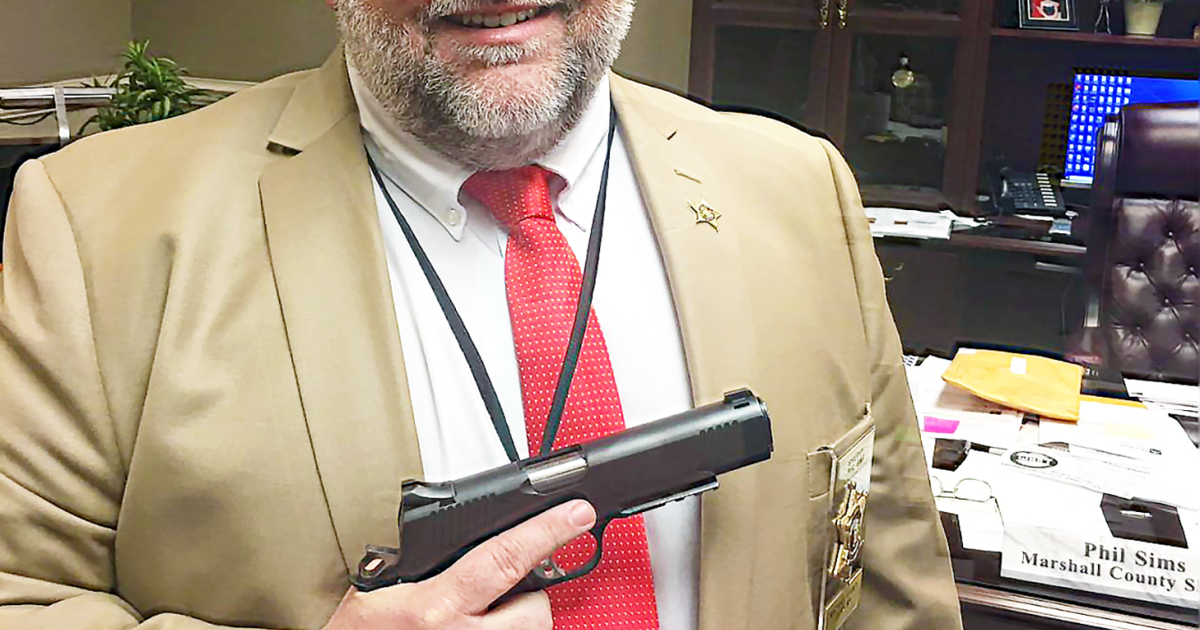 Sheriff Sims says training is priority #1 | Free sharing
Training is a number one priority for the Marshall County Sheriff. So much so that he worked with the Marshall County Legislative Delegation to pass a local bill requiring all Sheriff's Office employees to undergo year-round ongoing training.
"When I first took office in 2019, uniform training didn't exist," Marshall County Sheriff Phil Sims said.
"I proposed a local bill that passed in the first legislative session I was in power.
"Under state law, sheriff's deputies don't have to get CEUs unless their county commission agrees to fund them.
"If there's another county commission doing this besides Marshall County, I'm not aware of it."
The bill stipulates that all training and continuing education meet the minimum requirements adopted by the Alabama Peace Officers Standards and Training Commission.
All training and continuing education will be funded by the Marshall County Commission.
"I wanted to make sure that when I'm no longer sheriff, the training will still be there and that our staff will get the training they need and deserve," Sims said.
The law applies to all employees of the sheriff's office, not just deputies and correctional officers, he said.
Training is a topic of conversation at the upcoming sheriff's election. Candidate Anthony Nunelley said in a campaign ad that he would address accountability. "Community policing training for all staff will be required. While it is not mandatory for sheriff's deputies to continue earning professional development points after completing the academy, it is for other areas of law enforcement.
Sims said that while it's true that sheriff's deputies aren't required to earn continuing education credits, Sims has worked to have the requirement implemented locally through legislation. Any change to the requirement would only be possible through additional legislation.
While the county commission must pay for all continuing education, Sims said he has a discretionary line item in his annual budget that he uses to provide additional and specialized training to his staff, such as maintenance courses. for minors, courses in investigative techniques and more.
"Our School Resource Officers attend National Association of School Resource Officer conferences each year," Deputy Chief Steve Guthrie said.
"It's the national training standard for SROs. Our training policy is not limited to prison officers alone, nor to assistants alone. Every employee gets CEUs.
Sims said constant training and education is especially important for correctional officers.
"Laws are constantly changing," Sims said. "Our prison staff are particularly responsible for prosecutions. Prisons and trials go hand in hand.
"Correctional officers must follow state and federal laws. I believe that training fights prosecution.
Sims also founded the Alabama Jail Administration Council. AJAC was created to provide affordable, quality legal education to all prison administrators. AJAC offers online and in-person training, such as the upcoming Alabama Jail and Corrections Summit March 21-23 in Orange Beach and the Alabama Basic Corrections Academy June 6-8 in Pell City.
"All of our training meets state and federal regulations and standards," Sims said.
"I am very much in favor of good training alternatives being made available to everyone, especially prisons with limited budgets.
"We are not trying to reinvent the wheel. But we want to get the best possible training for our employees.