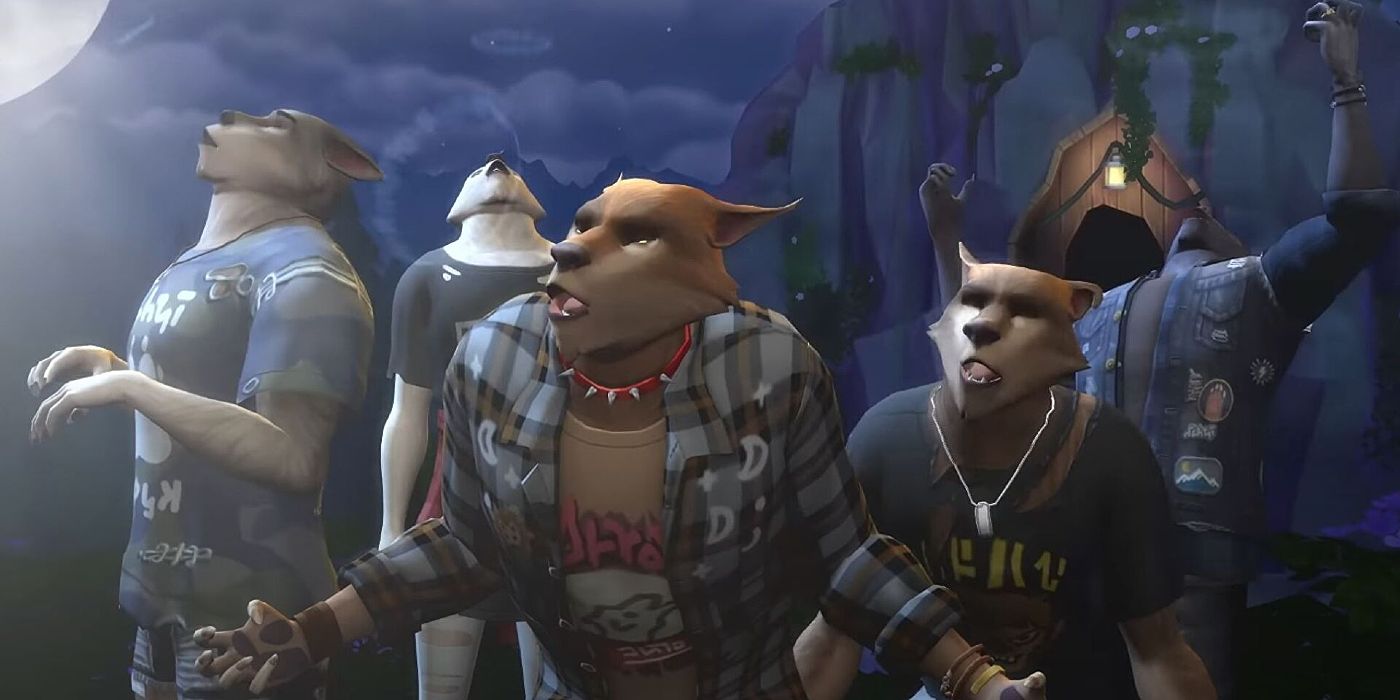 Run Wild, Join Packs, Avoid Greg
The Sims 4 Werewolves is all about unleashing your wild side, adding a new occult to the game alongside new items, clothing, and lore. This last The Sims 4 The DLC was officially announced earlier this month and introduces a werewolf life state that adds new actions and needs along with many pack-centric social mechanics in the new world called Moonwood Mill. Screen Rant attended a special preview of the game led by Senior Producer Morgan Henry, Art Director Cheyenne Kelsey, and Game Designer Scott Dai that demonstrated the pack's gameplay, Create-A-Sim features, and items.
werewolves in The Sims 4 feature very similar mechanics to their cohort of occult vampires, with skill tree-based abilities, special occult activities, and extensive CAS customization of their supernatural form. A new industrial grunge aesthetic accompanies the game, which is evident in much of the new furniture and clothing. The developers' goal was to give players all the tools they need to have a unique werewolf experience, and despite some initial apprehensions about the The Sims 4 werewolf appearance, it seems that the developers have succeeded.
Related: The Sims 4 Developers' Cryptic DLC Teasers Players Decode
The sims 4 werewolves The preview presentation outlined four main pillars for the Game Pack:
Create your own werewolf: Players can customize every aspect of their beast form in Create-A-Sim, changing everything from their face to their howl. New clothing and coat customization tools help players create a distinct and personalized werewolf.
Find the community in a pack (or do it yourself as a lone wolf): The new world Moonwood Mill is inhabited by two different packs of werewolves that players can join and who each embody different values. Players can be part of a werewolf community or go it alone.
live on the wild side: Players can explore two new systems, Wolf Progression and Lunar Cycles, while creating the story of their The Sims 4 werewolf. Werewolves will grow stronger, expand their powers, and manage their fury.
Learn about the lore of the lycanthropes: Moonwood Mill was once a prosperous lumber town which has now fallen into steep decline. Secrets about what happened to the town and the magic behind the werewolves can be uncovered in multiple ways, and players can enjoy new collectibles.
Moonwood Mill's new town design is inspired by the Pacific Northwest, full of pine trees and fog. It includes 2 residential lots, a library, a bar and an empty lot. Three of Moonwood Mill's five buildings were designed by the fan favorite The Sims 4 Youtuber and builder James Turner, which is very promising considering the consistent quality of Turner's creations. Moonwood Mill includes several other interactive elements aside from the new lots, adding things like a training pit and a crescent moon-shaped lake that contains a coveted new fish.
Moonwood Mill has a historical past that players can discover while playing The Sims 4 werewolves, learning the history of the town, the origin of werewolves, and a vampire feud. A local librarian, Wolfgang, helps players learn about werewolf lore with new werewolf-themed books to read. Players can also interact with locals to acquire information, though Henry warns that players who "going too far down the wrong path" will have to "deal with greg", a mysterious new Sim who was mentioned several times in disturbing ways during the presentation. new collectibles for The Sims 4.
The two main features introduced in The Sims 4 Werewolves are a skill tree and fury meter. Players earn skill points by participating in werewolf activities like howling at the moon and interacting with their pack, which they can then spend to unlock a host of new abilities. Some are related to quality of life, allowing werewolves to support themselves more efficiently, while others are more extreme, such as immortality and transformation control. Without transformation control, Sims won't be able to stop themselves from changing into their bestial form when their fury meter is filled. Along the way, werewolves will develop different temperaments that affect their situational reactions, similar to the famous quirks of the The Sims 4 become famous DLCs. Also introduced was the concept of destiny companions, a new form of romantic relationship that comes with special moods.
Players have many ways to shape their werewolf's values, one of which is the pack they choose to join. The player is given a choice between The Moonwood Collective, described as "seasoned, hardy werewolves who value tradition, community, and self-control" and The Wild Things, which are a "a team of rebellious, free-spirited werewolves who value improvement, self-acceptance, and are inspired by punk and grunge aesthetics." Once admitted to a pack after a series of tries, players risk being penalized if they do not adhere to the priorities of the pack.
Related: Sims 4 Player Reveals Vampires Have A Hilarious Romance Problem
A new moon cycle system will have different effects on werewolves depending on the stage of the moon – for example, a Sim included in the preview had received an athletic skill buff from a waxing moon. Lunar cycles will also be added to the base game, including different phase-based lighting effects and new moon-focused conversation options. The base game also includes a long-requested small telescope, which will be accompanied by a new The Sims 4 death.
Much of the clothing added with The Sims 4 Werewolves Rightly features rips and tears in an effort to add a possible extra layer of werewolf storytelling. Henry said the developers wanted to reflect the two werewolf packs in Create-A-Sim through different clothing, with both The Moonwood Collective"dark academiaand the grunge leanings of The Wild Things represented. Almost all of the new clothing is designed to look good on both female and male frames, which is a nice surprise. The new furnishings include lots of new plants, fences, and adorable werewolves thematic articles.
The Sims 4 Werewolves Create-A-Sim offers some of the largest The Sims 4 customization options still seen. New paint tools for designing fur patterns using free drawing or stenciling are now available, as is the ability to add body scars. If desired, a Sim's werewolf form can be linked to their human form, giving the beast a strong resemblance to their normal appearance. Conversely, if players choose to unbind their werewolf form, the beast can take on any appearance from cuddly to terrifying.
All in all, it looks like this new The Sims 4 The game pack can exceed the expectations of players. While there are a few disappointments, like the lack of new Woohoos – although Sims can now Woohoo in werewolf form – and the inability to create custom werewolf packs, it looks like the developers have listened carefully to the wishes of the players. sims fans can expect a solid occult storytelling experience when The Sims 4 Werewolves released on June 16.
Next: Sims 4 Next Expansion Pack Leak Teases More Teen Activities
The Sims 4 Werewolves Game Pack releases June 16 for PC, Mac, Playstation, and Xbox consoles.
Genshin Impact: Every Active Promo Code For June 2022
About the Author