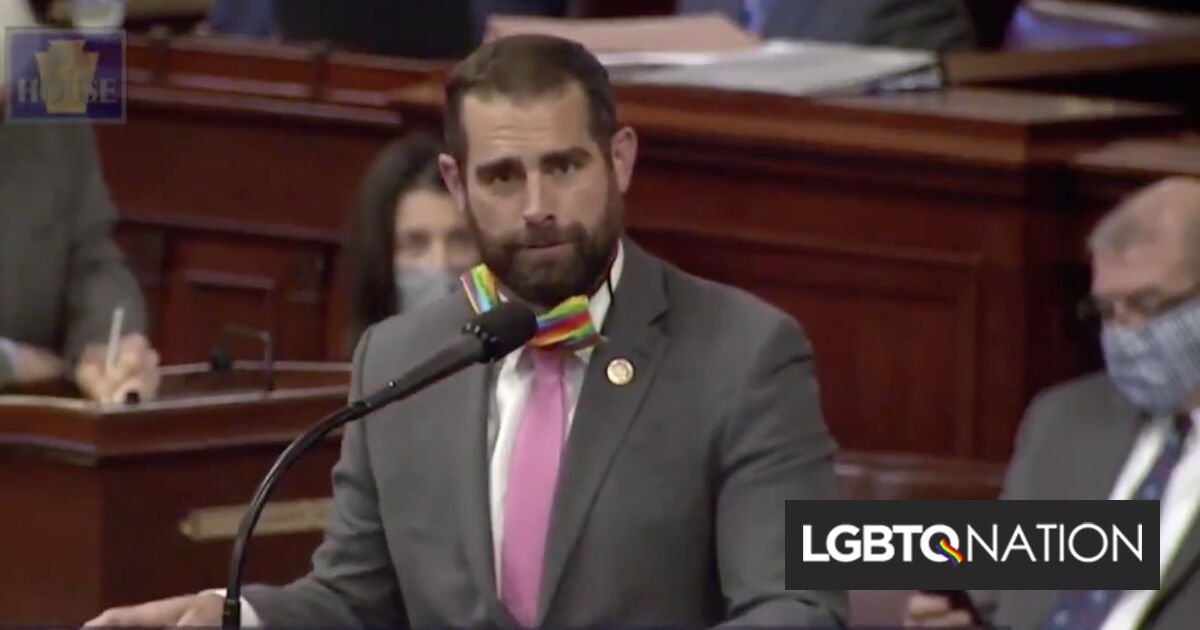 LGBTQ leaders snub Lt. Governor candidate Brian Sims, instead endorsing his direct opponent / LGBTQ Nation
Pennsylvania State Legislator Brian Sims speaks in the HousePhoto: Screenshot
Update: The Sims campaign has alleged that at least three of the seven LGBTQ leaders who "endorsed" its opponent were tricked into attending the event under false pretences.
Pennsylvania State Rep. Brian Sims (D) made history as the first gay member of the Pennsylvania legislature. Now he's running for lieutenant governor, and if elected, Sims would break yet another barrier as the state's first elected state leader.
But recently, a group of LGBTQ leaders in Pennsylvania turned their backs on Sims and backed one of his direct opponents, state Rep. Austin Davis (D), who would go down in history as a first mate. – black governor of the state.
Related: Montana House Candidate Zooey Zephyr Is Ready To Fight For The Trans Community
LGBTQ leaders announced their support for Davis at a March 3 press conference, during which they praised Davis' support for LGBTQ rights.
Among those who spoke at the press conference were Maria Sanelli, founder of the Stonewall Democrats of Schuylkill County; Rue Landau, former executive director of the Philadelphia Commission on Human Relations; and Mark Segal, editor of the Philadelphia Gay News.
The executives apparently didn't recognize why The Sims weren't their first choice.
Sims is well known for his outspokenness and passion. In 2018, for example, he posted a photo of himself flipping Mike Pence during a visit to Philadelphia by the former vice president. And last year, Republicans muted his microphone during a reproductive rights debate, during which he pointed out that the Republican caucus was "100 percent white."
Before being silenced, Sims vehemently criticized the Republican-dominated legislature for a "grossly and predictably misogynistic agenda" and said it "did more to remove hidden mandates, remove emergency powers of the executive and cancel free and fair elections than we have to make strategic investments". among women, children and families in Pennsylvania.
Of course, none of this explains why LGBTQ leaders didn't endorse it.
"The LGBTQ community is not a monolith," said Elliot Imse, spokesperson for the LGBTQ Victory Fund, which endorsed Sims. "We have varying political priorities, interests and beliefs, so it's no surprise that a handful of LGBTQ community leaders are supporting other candidates."
"Yet the majority of LGBTQ voters and community leaders are thrilled to elect Brian Sims as Keystone State's next lieutenant governor, and his fundraising numbers are all the proof you need," Imse continued. . "The enthusiasm of Pennsylvanians behind Brian's historic candidacy is overwhelming."
In June, Sims said LGBTQ Nation that he is running for higher office because Pennsylvania desperately needs more progressive leadership, something he has worked tirelessly to provide in the state's Republican-controlled legislature.
"What I've learned is that the office of lieutenant governor is one of the areas where Pennsylvanians can still elect a progressive Democrat in a state that often forces us to choose more moderate or more centrist Democrats." , did he declare.
"It's disappointing that Pennsylvania lacks such progressive legislation and also a real opportunity for me," he continued. "I've spent my ten years leading the charge on women's rights, reproductive rights, racial and ethnic justice, certainly LGBTQ civil rights, environmental issues, and even immigration."
Currently co-chair of the LGBTQ Equality Caucus, Sims also said he's proud of the coalition building he's made around LGBTQ rights.
In response to the loss of endorsements from LGBTQ leaders, a statement from Sims did not directly acknowledge the snub, but instead focused on his commitment to LGBTQ rights.
"Fighting for LGBTQ+ equality has been my life's work. You need look no further than the legislation I have introduced and sponsored over the past decade or my career before taking office. to see this.
"Our community – like many other communities – is tired of being approached by allies for our votes only at election time, at the most opportune time. We are more than a collection of photo opportunities and press conferences, and we deserve representation that will actually fight for our causes. We need elected officials who stood with the community before the election campaign and who will still be there after election day. That's why I'm running for lieutenant governor.
Editor's note: This article has been updated.