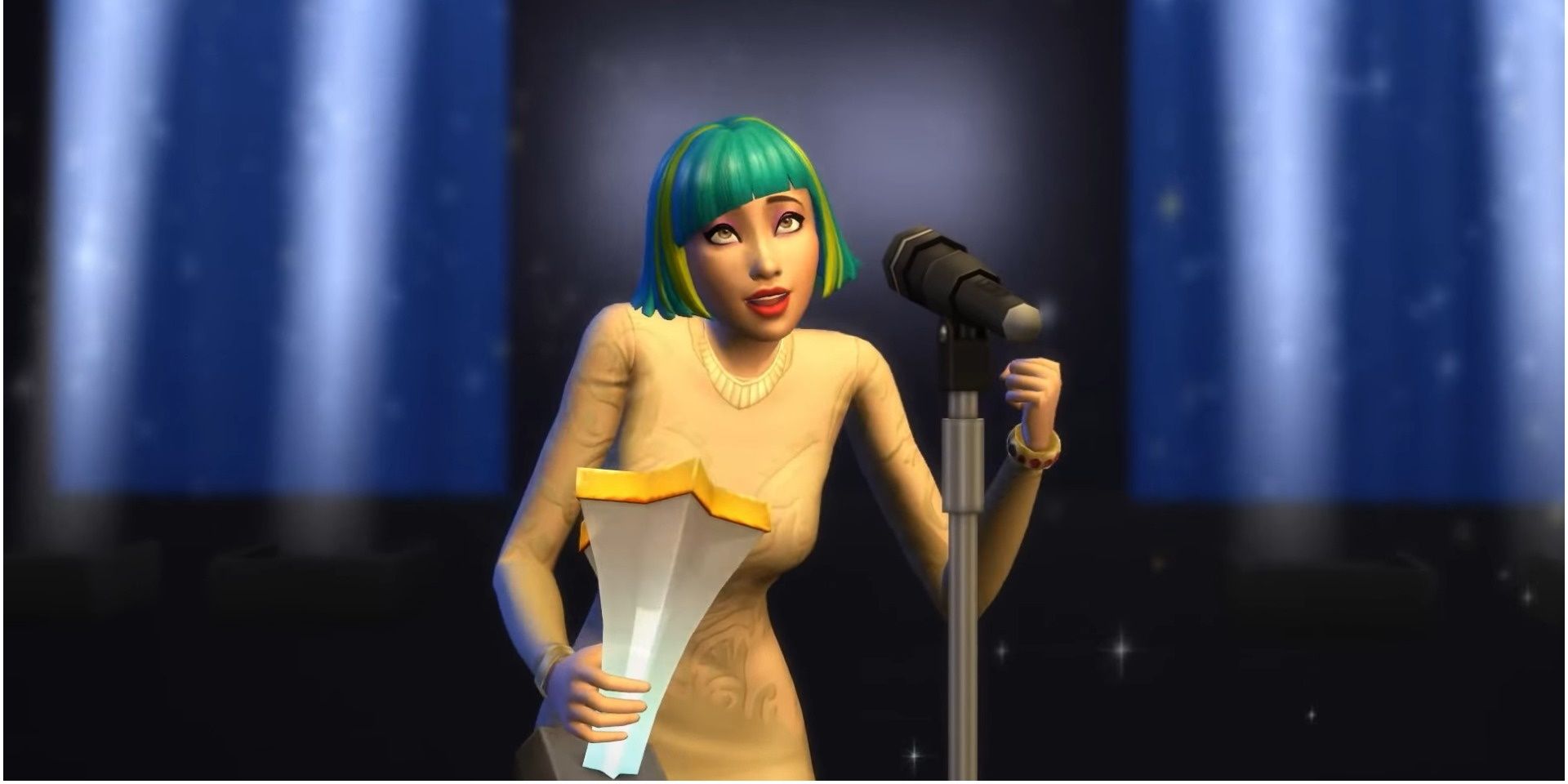 How to Earn a Starlight Reward
Get Famous remains one of the most powerful expansion packs in The Sims 4. It added a detailed fame system to the game, with a new acting career, fame tree, and star locations. There are even award ceremonies called Starlight Accolades.
RELATED: The Sims 4 Get Famous: Everything You Need To Know About Fame
Acting is one of the best ways to get a nomination – for more tips you can check out our guide on How to Succeed as an Actor – but luckily it's not the only way. Ultimately, a lot of things go into the nomination process. Luck and timing are inevitably part of the process (as they usually are in the world of the rich and famous), but hard work and patience will take your Sims far. If your Sim is looking to make it big, here's everything you need to know to earn a Starlight reward.
8

All Starlight Awards
There are several ways The Sims can earn nominations, but the five general categories include Best Acting, Best Song, Best Painting, Best Video, and Best Book. Here are all the possible rewards active Sims can earn:
For [their] most recent performances, [Your] won the Starlight Accolade for Best Actor!
To bring such aural beauty to ears around the world, [Your Sim] won the Starlight Accolade for Best Song!
[Your Sim] won the Starlight Accolade for best painting!
For [their] latest digital adventure in a period action comedy or drama or other types of digital genre release, [Your Sim] won the Starlight Accolade for Best Video!
For such captivating writing and storytelling, [Your Sim] won the Starlight Accolade for best book!
Other rewards exist for Townspeople and NPC Sims, but unfortunately Active Sims cannot earn them:
[Townie] won the Starlight Accolade for being a fun and versatile Sim. Apparently, you can get rewards for this!
Some Sims only give 50%, but [NPC] gave 110% every day, well deserving of the 110% Starlight Accolade Award!
For the outstanding achievement in fashion for wearing really tight pants that look REALLY nice and not tight at all, but we all hope you can still breathe, [Townie] won a Starlight Accolade!
7

The road to victory
Generally speaking, the higher the value of a Sim's work – whether it's a book, video, painting, or even a gig – the better their chances of being nominated. Certain genres or techniques can also give The Sims a head start, and writers seem to have a better chance of nominations with Biography, Mystery, and Sci-Fi, but bestsellers across all genres also increase their chances.
Novels must also be sold directly to publishers and paintings to collectors. Actors have the best chance of being nominated by winning gold on a film concert (as opposed to commercials or TV shows) and songwriters must license their songs, regardless of the instrument they use. use. Genre doesn't seem to matter to video producers, but quality certainly does.
6

Be nominated for a Starlight award
Nominated Sims will receive a notification within a week of the event, so keep an eye on the notification bar at the top right of the UI. If Seasons is installed, award ceremonies will also appear on the calendar. If a Sim misses the event, they will have no chance of winning a prizeso be sure to show up – and be on time!
RELATED: The Sims 4: Tips for Pursuing a Singing Career
Until the event, however, feel free to play the Sim as you normally would; you don't have to prepare anything in advance, unless you want to go to CAS and change their evening dress for the occasion.
5

The perfect place
Starlight Accolade award ceremonies are always held at Studio PBP in Del Sol Valley. Because this lot has the Hottest Spot in Town lot trait, Sims will not be able to enter unless they are at least B-list celebrities or, unless they are in a party with a celebrity who can bring them in. velvet ropes (to adjust entry conditions) also work.
Renovating the lot is fine, as long as there's at least one microphone and enough chairs to accommodate nominees and guests. The microphone is absolutely necessary for the event since Sims use it to accept their rewards. You can also add a new location if you want the ceremony to take place elsewhere. Fair make sure it's a Lounge location type with the Hottest Spot in Town lot trait. After a location change, it may take a few days or weeks in-game for the ceremonies to start up again, but eventually they will start working as normal.
4

Attend the ceremony
The ceremony technically starts at 7 p.m., but it's a good idea to arrive at the venue at least an hour early to ensure your Sims can enter the venue and get set up in time for the ceremony. . On awards days, all nominated Sims will be allowed entry, regardless of celebrity status.
RELATED: Sims 4 Wedding Stories: How to Plan the Perfect Wedding
If you miss the event, you will also receive a notification when the event starts. If your Sim arrives too early, the bouncer can make them wait a bit before entering the room (if the Sim is not already a B-lister), but it is better to arrive a little early than to miss the room. event by mistake.
3

Win a prize
Unfortunately, winning a prize is mostly down to luck; some Simmers win accolades without even trying, while others spend weeks earning gold on acting gigs with no luck. Also, the more famous Sims there are, the less chance the active Sim has of winning. But while luck is out of your control, timing isn't, and timing is just as important here.
If you see the notification that your Sim has won, click on the microphone immediately and select "Accept speech". You must do this before the next Sim accepts their reward, otherwise, even if your Sim wins, they won't get the trophy in their inventory. Some Simmers recommend having two microphones in the ceremony area to make it easier for your Sim to get their chance.
2

Fame is not everything
Interestingly, you don't really need to play a lot with Get Famous to earn a Starlight Accolade – you don't even have to be a legitimate celebrity. Of course, being a celebrity can help get into the room in the first place, it doesn't actually affect a Sim's chance of winning a prize.
A Sim doesn't even need to be nominated to win an award; even if your Sim isn't actually nominated if they recently did something that could earn them a nomination, they still have a slim chance of winning a legitimate award.
1

Other Honors
If all else fails, there are plenty of other rewards to be earned through the fame system. Completing a Gold-rated Celebrity Meet & Greet event will earn your Sim a Starlight accolade, though this is slightly different than those earned at award ceremonies. The Celebrity Meet & Greet version has a globe in the center, where the two palm trees are on the Award Ceremony version.
However, they basically look alike from a distance, so Sims can still claim they won a legitimate prize. Maybe it could also be a consolation prize, for Sims who missed their rightful reward by not getting to the mic in time?
NEXT: The Sims 4: Ways To Make The Game Interesting Again
There's no better video game protagonist than Ben from Full Throttle
Read more
About the Author