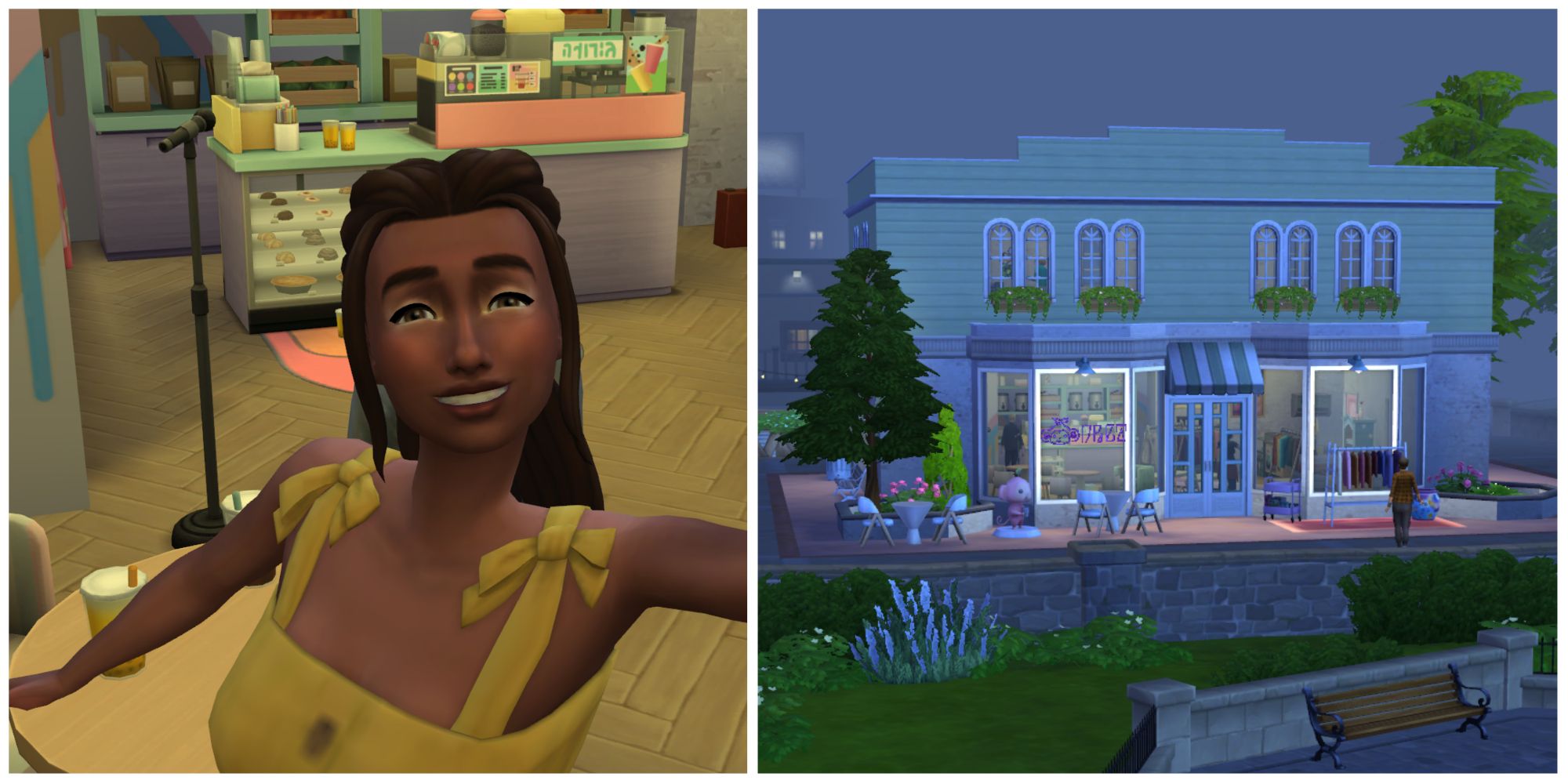 How The Thrift Store and Trendi work
Learn everything there is to know about Trendi and the new thrift shop added to the game. The latest addition to The Sims 4 added a new type of shop, a bubble tea cafe and a thrift shop. Although the store is quite small, there are several different activities you can take part in if you decide to visit.
RELATED: The Sims 4 High School Years: Social Bunny, Explained
In this guide, we'll go over everything there is to know about the thrift store and the Trendi app – they're both interconnected since Trendi is also about savings. Keep reading to learn more.
ThrifTea
ThrifTea is the newest store in town with the new High School Years Expansion Pack. Here, your Sims can socialize with the locals, attend events, grab a cup of bubble tea, grab some snacks, and find fun new outfits.
Bubble tea and snacks
One of ThirfTea's areas is a counter that sells food and drink. If you spend a good portion of your time at the store looking for deals, your Sim will be hungry, so this is a great way to curb their hunger. There are several options to try, so you might want to visit every now and then and have your Sim try them all out.
| To taste | Price |
| --- | --- |
| vegetable slider | 10 Simoleons |
| Fried Chicken Slider | 10 Simoleons |
| hamburger slider | 10 Simoleons |
| Corndog | 8 Simoleons |
| bubble tea | Price |
| --- | --- |
| Bubble Tea with lychee milk | 6 Simoleons |
| Mango Milk Bubble Tea | 6 Simoleons |
| Taro Milk Bubble Tea | 7 Simoleons |
| Chocolate milk bubble tea with cheese mousse | 8 Simoleons |
| Strawberry Matcha Latte Bubble Tea | 9 Simoleons |
Events at Thriftea
Each week there are a few different events you can attend at ThrifTea overnight. It's a fun way to be part of your community. On Mondays and Fridays you can catch the ThrifTea Fashion Show, on Wednesdays there is the ThrifTea Amateur Comedy Night, and on Sundays visit the show to participate in the ThrifTea Poetry Evening.
You will receive a notification once these events start, so don't miss it!
Saving
Economics is what it's all about, knowing the trends and getting new outfits to wear everyday or sell for a profit. At ThrifTea, Sims can buy clothes they couldn't get just by accessing the CAS. Every day, the clothes available to customers change and when there are exclusive clothes, you will receive a notification telling you to go to the store if you want to get them before it is gone.
When you buy clothes from the store, outfits appear in your inventory in a bag, which you can then wear or sell on the new Trendi app.
Tendency
If you love saving, you will probably appreciate the concept of trending because you can profit from this fun activity. Trendi is a platform that Sims can use to sell their thrift store outfits according to the latest trends.
You can access the Trendi app by opening your Sim's phone in the bottom left corner of the screen, it's the very first app there. On the app, you can learn more about Trendi, browse Trendi, check your Trendi followers, check what's trending right now, list a look and promote a look.
To sell clothes, simply create a look using a clothes rack, name it, and save it. Then, in your inventory, select the cart and press the option "sell the outfit on Trendi". You can buy clothes from ThrifTea, but once you have a buyer, you'll need to send the outfit through the mailbox, so you'll have to do it from your lot.
If you don't want to visit the thrift store every time you want to create an outfit, you can buy your own clothes racks in Build & Buy mode. There are two options: the Catch My Thrift Clothes Rack and Shelf and the Anything Clothes Rack.
Hype on Trendi
Hype is a very important concept on Trendi because everything revolves around it. If you want to create and sell a successful outfit, you'll need to understand how Hype works and how you can manipulate it. Like all trends, they come and go and it's no different in the world of The Sims.
If you open the Trendi app and select the "check out the latest trends" option, you can see which trends are doing well right now and which you should avoid. But, wearing your own look on the town can get her Hype up, especially if you have a massive following. And, when sporting your own looks, you can visit the app and use the "promote a look" option, which can either increase the hype of the trend or decrease it.
Followers on Trendi
You will gain Trendi followers by selling your first outfits on Trendi, it will also increase your Entrepreneurial skill which will also make you more likely to sell more outfits. As your follower count grows, your outfits are more likely to sell out, and you might also want to make them more expensive. It is certainly possible to make a lot of money if you work to follow the trends.
NEXT: The Sims 4: How to Use Sexual Orientation Options