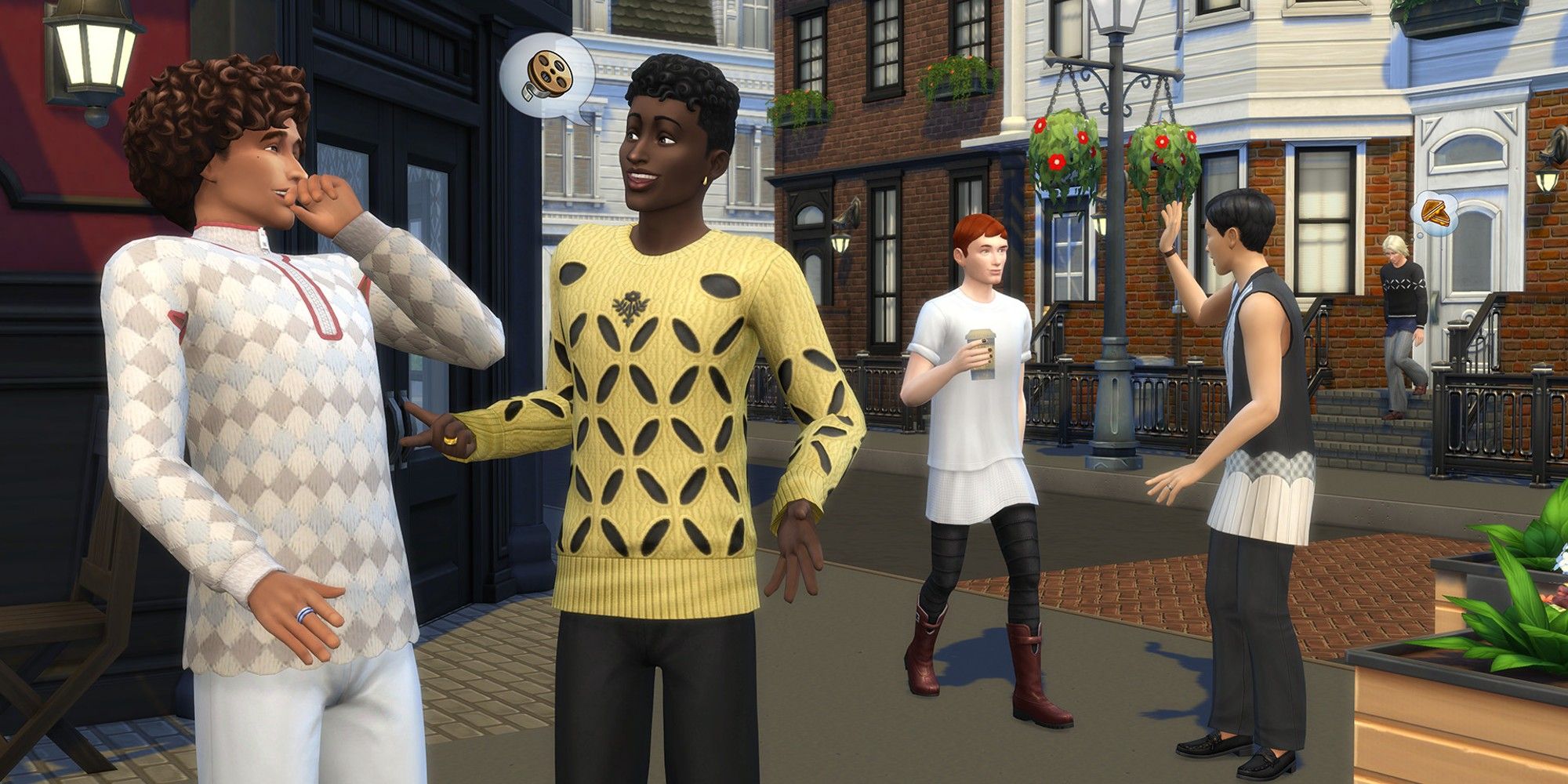 Everything in The Sims 4 Modern Men's Clothing Kit
The Sims 4 kits introduced a lot of clothing into the game and greatly diversified the regular catalog. Unfortunately, most of the items are seen as more diverse and/or interesting on the female side, leaving male-leaning players a bit disappointed. However, the developers fixed this problem by releasing the Modern Menswear kit.
Related: The Sims 4 Kits: Everything Included In The Courtyard Oasis Kit
This pack consists only of male clothes with tons of variations. The Sims has always made an effort to be progressive and it shows here too, as the men's items are not your usual jeans and shirts, including unique and interesting items, even with a skirt. It's a treat for the male playerbase, and the items just look good.
7/7

Simple skirt with variable swatches
The aforementioned skirt is a nice and somewhat surprising addition. Obviously, clothes don't have a gender, and the game only categorizes them by male and female labels. Still, it's nice to see this in a men's clothing kit.
The article itself is quite well designed. With a knitted feel and traditional looking patterns, the skirt is very authentic. Of course, you can go for a flat color, forgoing patterns with swatches, but the knitted look is definitely the more unique option here. A single skirt might seem a bit limiting, but luckily you have more in the full outfit category.
6/7

Plain dress shoes
The Modern Menswear kit also introduces two new pairs of shoes to the game. They're both on the more chic side, with obvious formal attire in mind. Although you can still use them with a casual outfit, of course they go best with a well-matched suit.
The shoes have a decent amount of swatches, with mostly neutral colors. There are fun accents and details on them, and the textures on the shoes look somewhat out of place, but that's only because they mimic the feel of real materials. Either way, nice shoes were needed (unless you're using custom content) and these fit right into the catalog.
5/7

Casual pants with a twist
The pants included in this kit are actually very distinct and beautiful. There is a denim option and one with almost sawn off pieces of shorts on it. Both look interesting no doubt. The denim one matches the denim top included in the kit, and the swatches also match each other.
Related: The Sims 4 Kits: Everything Included In The Country Kitchen Kit
The other pair is also attractive. There are samples that give them a corduroy look, and the top of them has a very interesting design. It looks like shorts were attached to it, and it also looks a bit like a skirt over it. These are unique, that's for sure.
4/7

Casual sweatpants and leggings
Everything in this kit is not designed for an expensive evening, because there are also sportswear here. There are two sets of sweatpants and a pair of leggings included. The sweatpants aren't exceptional, with each looking like slight design changes to the default sweatpants. However, at the very least, the one with two badge-like designs near the waist matches one of the tops also in this kit.
Getting leggings in this pack is also very nice, as they are rare under the men's label. These are simple in design, but the fabric and patterns are beautiful. Horizontal stitch trails also add texture and character to the item, with the swatches making them even more vibrant.
3/7

A range of tops for different occasions
No fashion kit would be complete without a few tops, and luckily the Modern Menswear kit provides them in spades. There are very nice jackets, a waistcoat and a shirt. These are tops that aren't sweaters and are worth talking about in their own right. The leather jacket and the denim jacket have unique textures and the samples make them very original, so it's a win for the kit.
The sweater vest isn't bad either, although it does feel a little plain. The shirt is a classic design, with a bit of flair near the collars, but other than complementing outfits with different swatches, it's not much use as a centerpiece.
2/7

Jerseys and more jerseys
Modern Menswear really does look like a sweater-focused kit once you've looked at the different options. For starters, they all have great textures, which makes them very snug and comfortable and even itchy to some extent. The patterns are all classic, with crosses, diamonds and zigzags as the main patterns. It's not game-changing, of course, but it's a nice touch.
Swatches make the number of sweater options even better. This kit itself could see you through the festive season, with plenty of amazing options. The turtleneck is the weirdest, with a flatter texture than the others, while the cutout sweater seems to be a fan favorite.
1/7

Non-traditional full body outfits
Although there is only one skirt available separately in the kit, full outfits offer more options. There are five outfits in the pack and one of them is a slight variation of another, only adding a scarf-like neck warmer. Fortunately, they all look decent.
Skirted looks are quite unique, and they pair well with tops without looking weird, especially long-sleeved t-shirts. There's also an outfit using the aforementioned leggings, and when you consider the boots and top, it makes for a very fashionable look that you don't usually see in The Sims.
Next: The Sims 4 Kits: Everything Included in Bust The Dust Kit