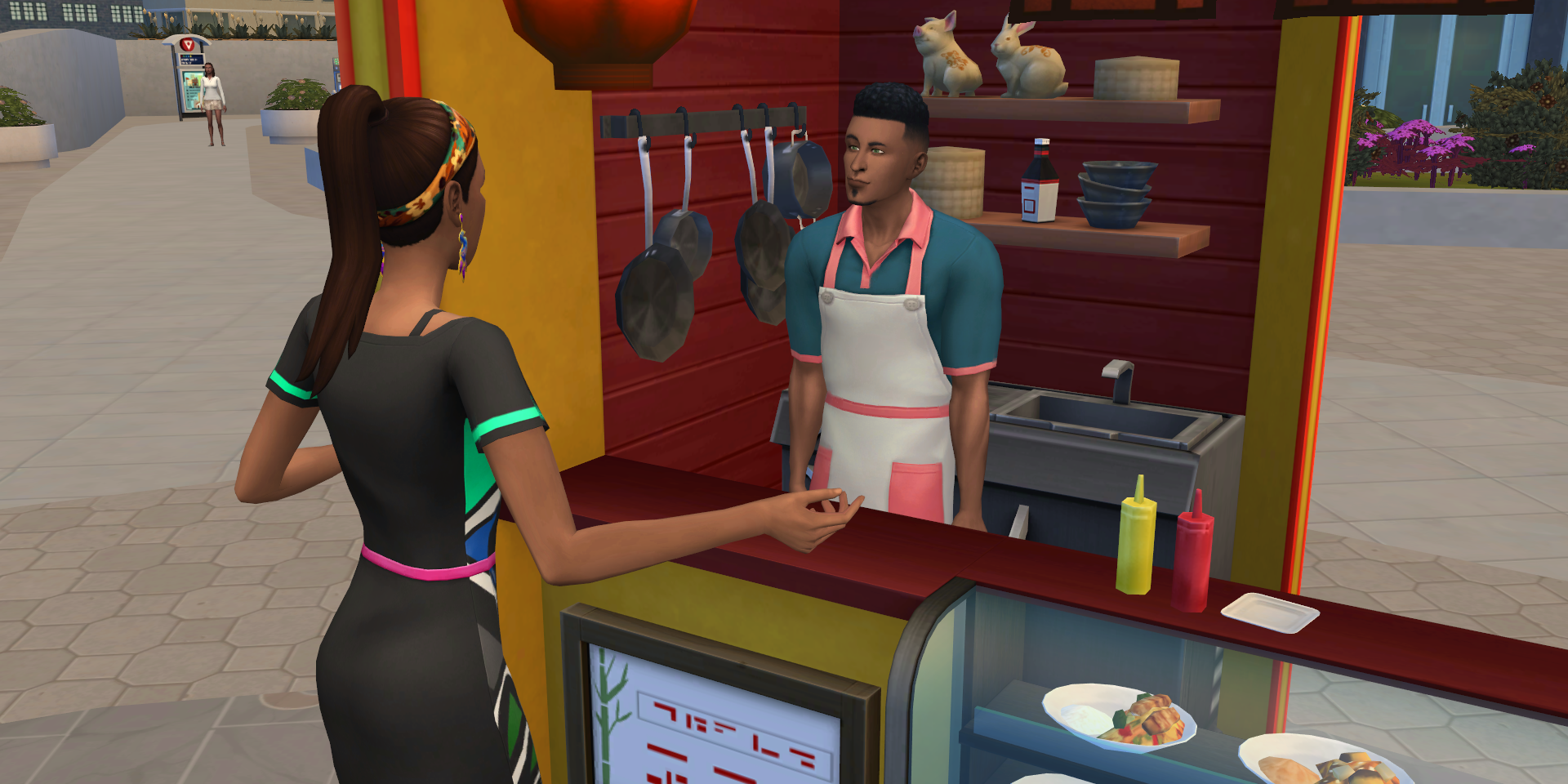 Breaking Down the Best MC Command Center Modules
Deadpool's MC Command Center Mod is one of the greatest mods for The Sims 4. It gives you control of almost everything in the game and adds tons of new features, like story progression. As a result, it's super complex and this massive mod can definitely be confusing for those who are new to mods.
RELATED: Best Pokemon Mods In The Sims 4
Looking for a place to start? Here's a quick primer on MC Command Center, along with a list of some of the best mods for MCCC and how they'll change your game.
How to access MCCC features
Before diving into the features of the mod, let's see how to access it.
You can find the MC Command Center Circular Menu by by clicking on any Sim or on a computer.
Clicking on a Sim will open some custom options – if a Sim is pregnant, for example, pregnancy options can be accessed here. However, housekeeping will need a computer to access the mods full set of features.
This mod has a lot of different settings, for the mod itself and other game mechanics, so for new users this would be the best place to start.
In Menu settings, players can choose how they view the MC Command Center menu. By default, the MC menu appears when clicking on a Sim, computer or cheat menuwhich is accessible with a Shift-click.
Interestingly, the MC Command Center menu will also show up when click on sculptures of gnomes.
Console command parameters allows players to automatically enable a variety of common cheats, like Full Edit CAS (create-a-sim), test cheats, debug commands, and build-buy cheats.
Related: The Sims 4: Best Mod Makers
In this menu, Phone text settings can also help control pop-up text messages The Sims get. Sims can receive text messages only for specific events, or for more unsocial Sims, none. "None" would also add some realism to off-grid gameplay, as how would Sims get service?
In this same module, relationship settings control speed or slowness relationships, both platonic and romantic, rot. You can also activate teenage parenting and check break parameterslike which Sim moves out when partners separate, or if children are involved, which partner they will live with and who will pay child support.
Inheritance checks are another feature here, so Simmers can turn inheritances on or off, who they will go to and how much they are worth.
the Game Settings Menu has so many settings it could be its own mod.
Children taken by social services can now be adopted by NPC familiesmaximum household sizes can be changed, skill difficulty and pattern decline can be increased or decreased, and new Sims can randomly ageso not all new Sims start at 0 days in their lifespan.
Age range durations can also be set for Sims and pets, and the duration of each life stage can now be changed as they could be in The Sims 3.
CM CAS
CM CAS lets you control how your Sims look without having to go into Create a Sim, and adds a few more features.
Monitor Physics keeps specific Sims (or Sims of specific genders) at a certain level of fitness or fat, so food and lifestyle choices will no longer change a Sim's body.
The genetics of children can also be configured to control how many Sim children will inherit from their parents, such as traits or physical characteristics.
Speaking of traits, you can now Blacklist Traits for Sims or Petsmeaning these traits will not be assigned to new Sims or aging Sims.
RELATED: The Sims 4 Free Update Adds Miscellaneous Artwork, Trait Upgrades & Bunk Beds
MC career
Here you can set employment brackets (essentially, percentages of Sims by age range, teens-seniors, who can be employed). Because story progression is also a big part of MC Command Center, you can also choose which Sims or Households can are automatically assigned tasks.
If you don't want your favorite families assigned, you can set work assignments for only inactive households.
Children and teenagers can quit school if you activate this option, the academic and professional difficulty can also be adjusted here.
MC Cleaner
As its name suggests, this module is ideal for keep backup files clean and organized. With MC Cleaner you can get rid of downed Sims (or ghosts released into the underworld), and sync surnames and marriage names.
The object cleaner delete specific clothesor even syncs a Sim's clothing. Syncing clothes is especially great for items like glasses or makeup, which are annoying to select over and over again for each outfit.
MC Clubs
MC Clubs changes the clubs function from The Sims 4: Get Together, so for those who don't have this pack, feel free to skip this mod. However, the mod is still compatible with the base game.
MC Clubs spans clubs in play by increase the maximum number Sims per club, and how Sims are added. This includes deciding if they can join or leave clubs on their own (assuming clubs have open time slots), and even though non-members can attend scheduled club meetings.
MC chest of drawers
MC dresses go well with MC CAS, adding more CAS functions. Right here, makeup and facial hair can be set for specific ages or outfit types. You can also choose what Sims will change into after work (so they can stop wearing their work clothes 24/7).
By far the best setting of this module is Replace situation outfits.
You may have noticed that Sims will wear random outfits at festivals, even if they already have everyday outfits. Luckily, Replace Situation Outfits lets you choose which outfits Sims will wear for those random specific situations.
RELATED: EA Lead Says Fans Always Ask For Specific Hairstyles When Meeting Developers
occult mc
Occults are supernatural Sims, which include aliens, vampires, mermaids, and spellcasters. The Alien menu has parameters that control alien abductions and pregnancies, with options to change their time, frequency, percentage, and gender rules. You can also force costumes for aliensor dark form for vampires.
About vampires, this module adds Risky vampirism, which means the Sims can become vampires themselves if they let vampires feed on them. Alas, Island Living didn't give mermaids much, so the settings here are minimal, but you can force mermaid shape.
CM population
This module has parameters that control the number of apartments filled automatically, whether teens should be addicted (i.e. whether they need adults to live with them or not), and whether Older Sims should automatically move into nursing homes when they get old.
Bar evenings can also be disabled, or you can mix them all together, or choose which events you want to keep.
You can also control populations of Sims and homeless pets, and even force vampires to only move into houses with vampire-specific lot characteristics. Unfortunately, this won't stop Vlad to crawl around the neighborhood every night.
MC Tuner
This module houses the Modify the Interaction menu, which is great for controlling a lot of common interactions – like have more than one best friendor have you stay the night and ask if single friendly, instead of romantic.
In this module you can also turn off the monster under the bed.
There are also options for how Sims react to deathand whether or not cchildren are able to take care of babies.
NEXT: Best Dragon Age Mods in The Sims 4
Fire Emblem Warriors: Three Hopes doesn't need Byleth
Read more
About the Author