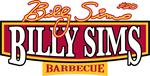 Billy Sims BBQ offers a Billy Sims Meet and Greet event at
TULSA, Okla., Sept. 02, 2022 (GLOBE NEWSWIRE) — Celebrating a new Billy Sims Barbecue franchisee in Mustang and Norman, and a recent renovation in Midwest City, Billy Sims BBQ welcomes loyal guests for a meet and sign autographs with Billy Sims, Heisman Winner and former NFL football personality, as well as the founder of Billy Sims Barbecue. Mr. Sims will be at the Billy Sims BBQ Mustang site on Saturday, September 10 from 11:00 a.m. to 1:00 p.m. with special guests Jason White, Jamil Holloway and more where these football superstars will meet guests and sign autographs . On September 25, Billy will visit fans at the Midwest City site from 12:00 p.m. to 2:00 p.m. and at the Norman site on October 15 from 3:00 p.m. to 6:00 p.m. immediately following the OU football game. There will be giveaways and autographs at all dating events
"We are thrilled to share our newest franchisees, one of whom grew up in the world of Billy Sims barbecue and another who rose through the ranks of the store to become a franchisee, once again demonstrating the perseverance of the American Dream and our continued support of small business owners. We've been proud to be part of the local OKC community for 15 years, and look forward to building an even more successful relationship with the local communities of Mustang, Norman and Midwest City," said Jeff Jackson, CEO and co-founder of Billy Sims BBQ.
About Billy Sims
Billy Sims is an accomplished athlete and successful entrepreneur whose career highlights include numerous high school, college, and professional records that still stand today. Under coach Barry Switzer of the University of Oklahoma, Sims was the nation's top runner and scorer and also received the coveted Heisman Trophy. Sims entered the NFL Draft in 1980 and was the first draft pick for the Detroit Lions. He was named NFL Rookie of the Year and contributed to a 9-7 winning season for the Lions compared to a 2-14 season the previous year. Sims would eventually retire from professional football in 1985.
About Billy Sims Barbecue
Celebrating 15 years, Billy Sims Barbecue is a fast-casual, 40-plus-unit, Tulsa-based concept serving upscale barbecue and traditional sides. Founded by 1978 Heisman Trophy winner Billy Sims and entrepreneur and retail expert Jeff Jackson, Billy Sims Barbecue is the third-largest fast-casual barbecue restaurant in the United States. With operations in six states, the Billy Sims Barbecue franchise system continues to grow at a rapid pace. pace and is actively seeking franchisees for multi-unit contracts in states across the country.
#########
For more information just press:
Marketing Department, [email protected]
Related images
Image 1: Billy Sims barbecue logo
This content was posted through the press release distribution service on Newswire.com.