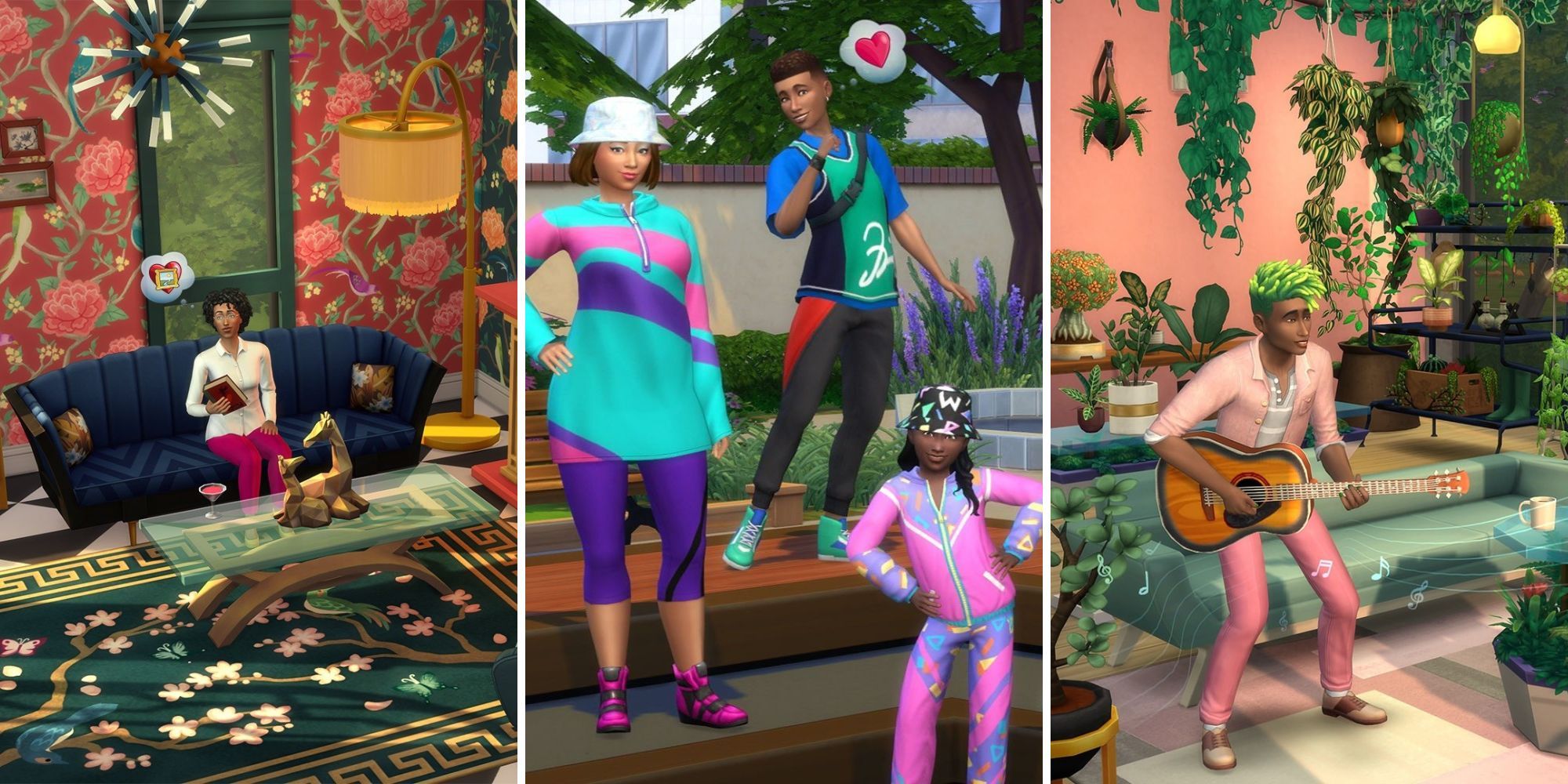 There are plenty of extras players can purchase for The Sims 4: Expansion packs, game packs and item packs offer players a wide choice of additional content. A recent addition to The Sims 4 is Game Kits. These are kind of like Stuff Packs, in that they only contain Create-a-Sim or Build and Buy items, rather than introducing anything major to gameplay. Kits are pretty cheap and a good way to spice up the game without spending too much.
Related: The Sims 4: Ranking Every Expansion Pack From Worst To Best
There are many kits to choose from in The Sims 4. Here we have ranked 8 of the best that players can get. These kits add well-designed and thoughtful objects to the game, with a strong theme for each.
8/8

Country kitchen
The Country kitchen kit is similar to the Living in a cottage Expansion Pack: If gamers like that warm, rustic, and cozy vibe, this is the one for you. Standout items include the Retro Fridge and Retro Stove, which are much prettier than the usual fridges and stoves available in The Sims 4.
The focus on the kitchen means players will have a wide range of cabinets and wall shelves available, making it easy to create that cluttered and warm look. In fact, the kit introduces new bulky items, including an oven dish, a bread basket, and flowers. (A bonus tip: use the bb.moveobjects cheat to rotate and organize clutter more naturally.)
7/8

Industrial Loft
Unlike more welcoming packs, Industrial Loft adds some modern elements ideal for apartments. Inspired by Brooklyn's industrial lofts, this kit contains some great looking items, including wood and steel beds and sofas, and cool chunky wall art. Neon lighting is a particularly nice touch.
The best thing about Industrial loft set is the windows and doors. If players like large, almost floor-to-ceiling windows, they'll appreciate the items offered in this kit. Sliding doors are nice too. The whole pack works great with the City Living Expansion Pack.
6/8

Retro cut
It's retro time! Retro cut is a clothing-based kit with some great retro items. A common complaint about The Sims 4 is the lack of nice casual clothes, but this kit adds a few key items that players can use again and again. Hoodies and crop tops look great, and bucket hats are a nice nod to the 90s.
Children's items are also available, including tracksuits and an adorable sunflower-shaped bucket hat. The shoes are amazing, with 80s style sneakers in rainbow colors for all Sims to enjoy.
5/8

Decor to the max
This is not a pack for minimalists! Decor to the max adds eclectic elements to the mix, in a range of bold patterns. Carpets and wallpapers are interesting, with tiger wallpaper being a good choice for feature walls.
Related: The Sims 4: Things You Didn't Know You Could Do In Build Mode
Extremely colorful lamps, rugs and sofas are also available. Ideal if players want to build a mansion full of interesting treasures to find, or a modern apartment with a few noteworthy items. The fireplace is a nice addition to the set, and it has great color shades to match any room.
4/8

fashion street
fashion street introduces a whole bunch of new clothing to the game, including shiny and flowing fabrics and accessories. Inspired by Mumbai fashion, players can expect bright clothing in contemporary cuts and fun accessories.
Jewelry is especially great: think beautiful dangling earrings, sparkling bracelets and nose rings. Additionally, it introduces new henna hand tattoos to the game. fashion street has some amazing items, and it's worth bringing into the game if players want new clothes in Create-A-Sim.
3/8

Break the dust
Break the dust is an interesting pack. This is slightly controversial, as some players believe these items should have been included in the Laundry Day Item Pack, and it was quite buggy at launch. It introduces the whole concept of dust to the game, so of course that includes some key things like vacuum cleaners to help Sims fight off grime. It feels a little more like a small game pack than a kit, in that it has a real impact on gameplay.
Related: Architecture Games That Let You Build Houses
Dust and dirt will start to accumulate within days, so Sims will need to use the new items to clean up. If they don't tackle the dust quickly enough, Dust Bunnies will emerge. Oddly enough, Dust Bunnies are actually useful: they can collect items for Sims, including Simoleons, and they can befriend Sims if their happiness level is high enough.
2/8

Flowery rooms
This is a pack for plant lovers. It introduces a ton of beautiful plants to the game, from hanging plants to large potted plants. Players can build the botanical paradise of their dreams using this kit. It also comes with a range of plant stands, so players can arrange their new plants wherever they want.
There are also bigger items, like the Plant Cage, which is kind of like an indoor greenhouse and cabinet combined. Players can also use plants instead of curtains while using this kit, just to really show off their love of foliage. All in all, it's a useful pack, and the buy mode stuff will fit nicely into just about any build imaginable.
1/8

Courtyard Oasis
If players want to build a beautiful outdoor space, Courtyard Oasis is the kit for you. It's a Moroccan-inspired kit that features patterned tiles and interestingly shaped doors with archways, as well as new pillars and stairs. This is a good kit if players want to build nice relaxing courtyards. Moreover, patterned tiles also work well in different areas of the house.
Courtyard Oasis has some interesting items, like lanterns, new plants, and octagonal-shaped coffee tables. The standout feature has to be the fountain, which is beautiful, and players can use tiles under it to create a focal point.
The Sims 4 is available on PlayStation 4, Xbox One and PC.
More: Fun building challenges in The Sims 4