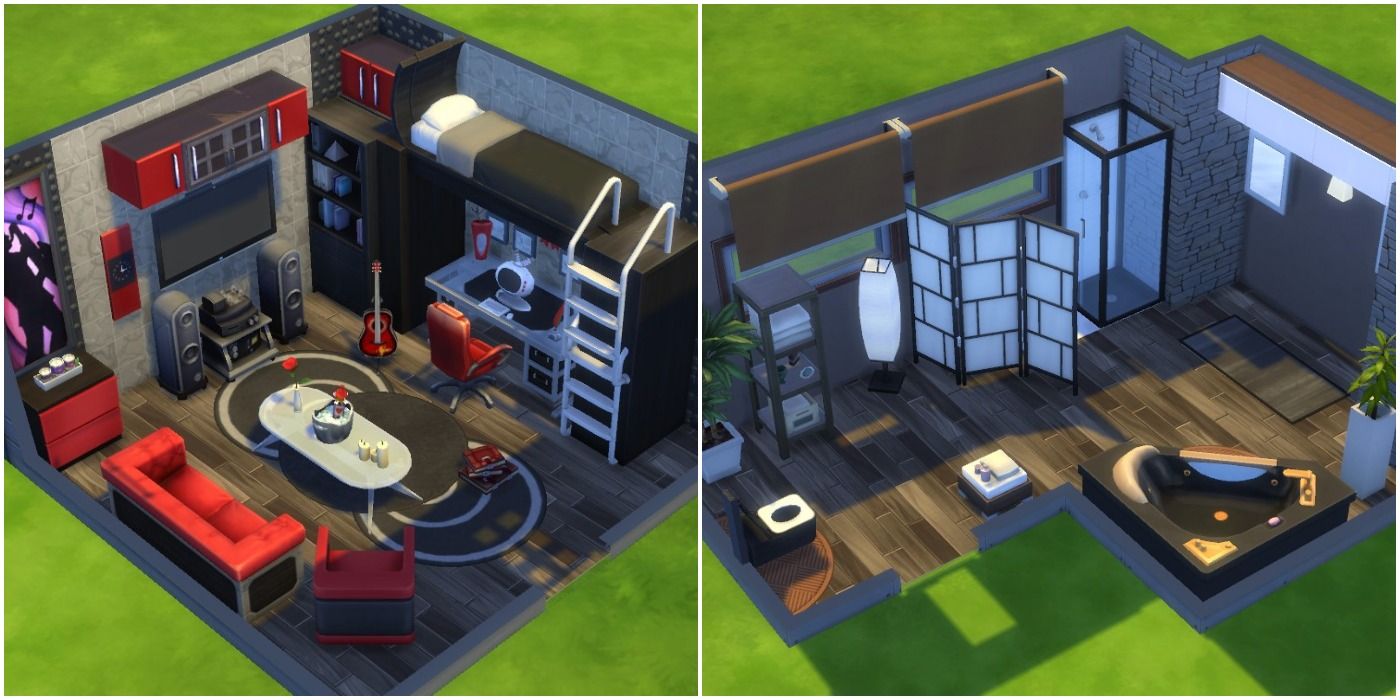 10 Most Popular Gallery Rooms Fans Must Download
The Gallery in The Sims 4 is a place where fans can upload their creations including The Sims, Households, Residential Lots, Restaurants, Bars, Gyms and just about anything a fan might want to upload and place in their community of sim. One of the most useful versions to download from The gallery are rooms. Pieces can be downloaded and placed in a sim house that a fan is working on to help inspire the rest of the build or help complete the residence. Each version of The Gallery displays the number of likes and downloads it has received.
RELATED: The Sims 4: 5 Coolest Handheld Items (& 5 That Look Terrible)
The room types with the most likes and downloads are so varied that fans could download the most popular ones and build an entire house using just those top-rated rooms. It would be a mismatched house, but it would be far from boring.
ten

Modern Penthouse Room
The modern Penthouse bedroom, uploaded by findjoo, has a chic black and white aesthetic. The uploader says the room is a celebrity style penthouse. It features luxury seating and spotlights throughout and an oversized vanity perfect for a famous sim to wake up to and face their life of luxury.
This room has 13,580 likes on The Gallery and an impressive 98,170 downloads.
9

Vaulted kitchen
Uploaded by mornC, the vault kitchen is fully decorated and feels lived in. The counters are full of items like a spice rack, coffee mug holder, utensil holder, and fruit bowl. The walls and shelves show more real objects, from the dishes displayed in the cupboards to the plants and frames on the shelves.
RELATED: The Sims 4: The 5 Best (& Worst) Romances
Two-tone bricks separate the kitchen and dining room while remaining congruent. This true-to-life kitchen has 51,174 likes on The Gallery and 181,045 downloads.
8

Cozy room
Although the components should match, the two tones and multiple textures are proven to give a room extra appeal. With 15,505 likes and 183,969 downloads, Bedroom Cozy shows how cohesive brick, paneling and wood can be.
There's symmetry in this room too, with the wall decor and plants, but it also includes a mix of different shapes, like the round light fixtures and tapered dressers. Uploaded by simnopsis This Cozy room is really comfortable.
7

Young and trendy apartment
Although technically one room, this young and trendy apartment (uploaded as young and trendy apartment) combines a living space, a bedroom and an office in a cramped apartment space. Homeowners can connect this to a small kitchen and bathroom and have an entire apartment with minimal effort. Maybe that's why this room has 61,891 likes and 188,816 downloads.
Black and red coloring, cube style furniture and storage create a college atmosphere in the room. The multi-texture wallpaper also pairs well with the guitar placed in the room for a bit of rock and roll. Players can search Attractiverose downloader to download this elegant and almost complete apartment.
6

single living room
Everything in this simple living room works together. The cool colors are paired with the wood and brick accents and the glass coffee table and desk.
RELATED: 10 Of The Weirdest Sims 4 Mods
There are several textures that appeal to users, and with 23,193 likes and 189,353 downloads, it is evident that people are indeed enamored with this room. Fans can thank user Sunny545 for downloading the Simple Livingroom and simplifying their builds a bit, without sacrificing style.
5

cooking for nerds
Here is a winning combo: wood and green. What makes this combo work so well in this room is the variations of each. There are multiple wood tones and multiple shades of green throughout. This kitchen is full of greenery, both vegetal and painted. Again, the counters have exposed elements that make the room look lived in.
The vertical cabinet handles draw attention to the horizontal window slats in the door, it matches without being too much. User arielle47 uploaded Kitchen for Nerds, which now has 66,613 likes and 205,066 downloads.
4

Girls Nursery
This baby girl room, uploaded by Awarathe, has an unusual shape. The basic square piece is elevated by adding two cutouts for the dresser and wardrobe.
RELATED: The Sims 4: All The Places You Can Woohoo
Wallpaper and carpet add elegance, while stuffed animals and toys add a soft touch. What makes the exclusively pink and white coloring work is the use of multiple tones. There is a wide range of accents from dark pink to light pink and various textures of white, including wood and fabric. Users love using this room for their own sim families as evidenced by the 43,197 likes and 217,973 downloads.
3

Teenage girls bedroom
Players struggling to build a teenage bedroom should look no further. User Shiozakile uploaded to The Gallery this bedroom which includes the popular cutout areas for closets and desks.
The long woodwork paired with the flowery pink walls add a feminine touch, while the flowers, perfume, nail polish sets, hanging dress, and pile of clothes make the room easily identifiable as a teenage room. It's a very popular addition to a Sims home with 33,578 likes and 281,649 downloads.
2

Bathroom with wood stove
What Sim doesn't want a comfy, spacious bathroom? It's no surprise that the Wood-Stove bathroom uses multiple tones and textures. Gray stone, flat gray walls, and multi-grain wood flooring are accented with gold and white light fixtures to add warm and cool tones to the area.
The Room was uploaded to The Gallery by MarcellaSims and has 77,177 likes and 293,968 downloads. It is a popular bathroom that is sleek and stylish.
1

warm bedroom
The Warm Bedroom was uploaded by Brrreakfast and has an amazing 67,849 likes and 432,811 downloads. Users fell in love with the square floor-to-ceiling windows, or maybe it was the inclusion of a seating area with a TV. Or maybe it was the wraparound desk space and offset shelving. The lattice-like wooden ceiling above the glazed bed area is also eye-catching.
The room has it all; multiple tones and textures, a defined style, and the feeling that Sims really live in the room.
NEXT: The Sims 4: 5 Hidden Areas You Didn't Know Existed (And What You Can Find There)
Elden Ring Player Creates Ross Geller From Friends Using Character Creator
The Elden Ring player creates a character that resembles Ross Geller, one of the most iconic characters from the popular Friends TV series.
Read more
About the Author